Differin Gel Reviews: Customers Rate This Acne Treatment
There are many acne treatments on the market, so how do you choose the best one for your situation? User reviews are a great place to gain some insight into how other acne sufferers are experiencing a treatment. This is why we publish our Differin gel and cream reviews, along with a summary, to help our customers stay informed every step of the way. Differin reviews can also give users an insight into what it's like before and after treatment.
What Is Differin Gel?
Differin gel is an acne treatment containing adapalene, which is a retinoid that helps to clear up the signs of mild to moderate acne. It is designed to be applied directly to the affected area and can be incorporated into your skincare routine. Differin works by increasing the rate at which skin cells turnover. This exfoliates skin, unblocking pores to allow dirt and bacteria to escape. This reduces acne, including blackhead and whiteheads. Differin also works to reduce inflammation and scarring on the skin. As it promotes the rejuvenation of new skin, it can help to even skin tone and reduce hyperpigmentation, age spots and improve skin clarity. It is available in both gel and cream form, with many users reporting that the latter is the better option for dry or sensitive skin.
How Long Does Differin Gel Take to Work?
Differin gel generally starts working within around four weeks from starting treatment. During this initial phase, users don't report much change in the condition of their acne. In fact, you may find that your skin starts to appear worse off. This is known as 'the purge'. This is a good sign that Differin is working. During this phase, you may experience dry skin and breakouts. Differin is working to bring all the dirt and bacteria under your skin, to the surface, pushing it out. The purge usually lasts for up to a month, buy after this phase, Differin gel or cream should start to provide significant improvements. In general, it takes several months to get the best results from Differin.
Differin Gel Reviews
When you are choosing an acne treatment such as Differin gel, cream or another product, you need to get the full perspective. It is important to take the advice from your doctor or pharmacist. Firsthand user reviews — many of whom may have experiences similar to your own — can prove to be beneficial.
We publish our reviews on an independent third-party platform called Trustpilot. Differin reviews from Trustpilot can provide a non-biased insight into how Differin gel or cream will work for you.

Differin Cream vs. Gel
Differin is available in two different forms. So, which one to choose — Differin cream or Differin gel?
Differin cream tends to be gentler on the skin and does not dry it out as much. As a result, those with sensitive or dry skin may prefer the cream option. Older acne patients may also prefer the cream.
Differin gel dries quicker, which can increase the chances of irritation for patients with dry skin. If you have oily skin, the Differin gel may be the best choice for you.
Both the gel and the cream contain the same concentration of Differin's active ingredient, adapalene.
Differin vs. Epiduo
Both Epiduo and Differin contain adapalene. The main difference in terms of Differin vs. Epiduo is benzoyl peroxide. Epiduo contains benzoyl peroxide, while Differin does not.
This makes Epiduo better suited to treating the inflamed acne, as well as blackheads and whiteheads. Meanwhile, Differin is focused on treating blackheads and whiteheads. The lack of benzoyl peroxide means that Differin causes less dryness and irritation than Epiduo.
Differin vs. Tretinoin
Tretinoin has been used as an acne treatment for decades, while Differin is a relative newcomer to the market. But what are the key differences when considering Differin vs. Tretinoin? Many users report that Differin is a gentler option compared to Tretinoin and can be used in conjunction with other acne treatments under the guidance of a medical professional. Despite this, Differin is still an effective treatment in its own right for many patients.
Differin vs. Duac
Duac vs. Differin — which one is right for you? Like Epiduo, Duac contains two active ingredients – benzoyl peroxide and clindamycin.
Owed to the antibiotic, clindamycin, Duac tends to be tougher on the skin than Differin. Duac is usually the next option if Differin has not been successful. Depending on the severity of your acne, your doctor or pharmacist may recommend starting with Duac, and moving to Differin once your acne is brought under control. Duac can only be used over a 12-week treatment course, while Differin may be more suited to longer-term application.

Differin Gel Price: How Much Does Differin Gel and Cream Cost?
Differin gel and cream products start from £24.49 for a 45g tube.
Chemist Click also offers a parallel import of Differin products, starting from at £21.49 for a 60g tube. Parallel imports are products that have been produced by the same manufacturer, in a country outside of the UK. They are then sold to UK wholesalers.
You can see Differin prices on our product page.
Differin Results: A Summary of Our Customer Reviews
We've summarised some of the key results from our Differin user reviews to give you an overview of treatment. Take a look at what our customers have said about this product and learn a bit more about how this cream or gel will fit into your own personal skincare and acne treatment routine.
1. Treatment Effectiveness
Users find Differin treatment to be highly effective, although the process is a lengthy one. Reviews discuss how the treatment led to clearer skin and reduced acne symptoms in the long term. Low-level results typically began to appear after four weeks, and users recommended continuing with the treatment for four months and beyond to get the best out of it.
2. Cost and Value
Differin is a relatively low-cost option for treating acne, compared with competitor products such as Duac and Epiduo. Its low price point, coupled with the good results that users were able to achieve when working with the product, means that Differin is very good value for money. One tube can also last a long time, depending on the area you are using it.
3. Comparisons with Other Products
Customers tend to find that the Differin product is gentler on the skin than other treatments such as Epiduo or Duac. This means Differin can be used over a longer term of treatment, and many users eventually switch to Differin after the 12-week period of Duac treatment is complete. This should be done on the advice of a medical professional. Because Differin is a gentler treatment, some patients with more serious acne symptoms find that it is less effective than other products.
4. Ease of Use
In general, reviewers reported a great experience when using Differin. They were very impressed with how easy the product was to use and to incorporate into a longer-term skin health routine.
How it works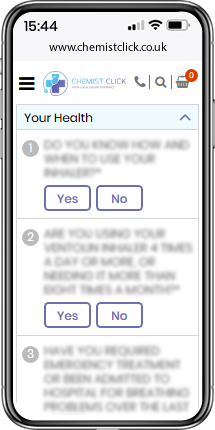 Complete
Questionnaire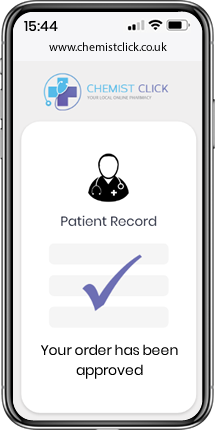 Suitability assessed by
UK based clinician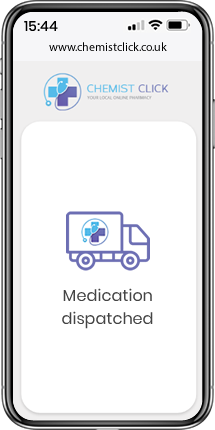 Next-day discreet
delivery
ABOUT OUR SERVICE
Chemist Click is an award-winning UK online pharmacy, offering a private prescription service. You can safely buy medication online, having it delivered to your door the next day in plain and discreet packaging. If you are using our online consultation service, you do not need a prescription. After you have completed the online questionnaire, a prescription is generated by our prescribers, which is then passed on to our in-house pharmacy. It is then dispensed and dispatched by our qualified pharmacy team. If you have a private prescription that you would like us to dispense, please contact our pharmacy team for a quote. We are a trusted UK online pharmacy with years of experience. Chemist Click is accredited by the MHRA and GPhC, ensuring that it is safe for you to buy medication online.
AS SEEN ON