Trimethoprim

Trimethoprim is an antibiotic which is used to treat unrinary tract infections (cystitis). The treatment is taken over a 3-day period after which symptoms are usually cleared.
Next Day Delivery
Plain & Discreet Packaging
Confidential Service
UK registered service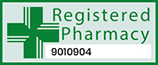 ABOUT Trimethoprim
What is Trimethoprim?
Trimethoprim is an antibiotic used to treat Urinary Tract Infections such as cystitis. Trimethoprim needs to be taken twice a day for three days. You should start to feel an improvement after a day of having taken the course.
Side Effects
What are the side-effects of Trimethoprim?
Trimethoprim is unlikely to cause many side-effects as the course is so short, however, some common side-effects may include:
Feeling nauseas (sick)
Skin rash
Headache
To see a full list of side-effects, please read The Patient Information Leaflet for Trimethoprim
Patient Information Leaflet
For more information about Trimethoprim Cystitis (UTI) treatment, take a look at the patient information leaflet below:
Where can I find out more information about Trimethoprim?
To find out more information about Trimethoprim, visit the NHS website.
Product Reviews For Trimethoprim
Trimethoprim PRICES
*Please note: We do NOT charge a prescription fee
| Medicine | x6 Tablets (3 Day Course) |
| --- | --- |
| Trimethoprim 200mg Tablets (3 Day Course) | 9.49 |