Azithromycin Tablets

Azithromycin is an antibiotic used to treat chlamydia. It is the second-line treatment and should only be used where doxycycline cannot be taken. Two tablets should be taken on the first day, followed by one tablet on the second day and one tablet on the third day.
Next Day Delivery
Plain & Discreet Packaging
Confidential Service
UK registered service
Chemist Click
Award Winner
Online Pharmacy of the Year
Chemist Click
Award Winner
Most Trusted Online Pharmacy
Chemist Click
Award Winner
Online Pharmacy of the Year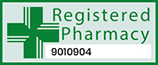 Azithromycin PRICES
*Please note: We do NOT charge a prescription fee
| Medicine | x4 Tablets (3-Day Treatment) |
| --- | --- |
| Azithromycin 500mg Tablets (3-Day Treatment) | 17.99 |
ABOUT Azithromycin Tablets
What is azithromycin for chlamydia?
Azithromycin is an antibiotic belonging to the macrolide class. Macrolide antibiotics have a broad spectrum of activity and are commonly used to treat mild to moderate bacterial infections including chlamydia. It is also used in the treatment of respiratory-tract infections, ear infections and skin infections, and is considered to be a versatile and effective form of medication. You can buy azithromycin online after completing a short medical questionnaire.
How does azithromycin work to cure chlamydia?
Bacteria need certain proteins in order to survive, and azithromycin works to inhibit protein synthesis so that the bacteria is killed. This treats the infection and clears it from your body.
Azithromycin dose for chlamydia
The dose of azithromycin required to treat chlamydia is 1g (2 x 500mg tablets) taken on the first day of treatment, followed by 500mg (1 tablet) take once daily, for the next two days. Doxycycline is more effective than azithromycin, and you should only take azithromycin, if you are unable to take doxycycline.
How long does azithromycin take to cure chlamydia?
Azithromycin starts to work as soon as it is taken. It takes around seven days to cure chlamydia, which is why you should avoid any form of sexual contact for seven days after you have been treated.
How effective is azithromycin for chlamydia?
Azithromycin has a been considered an effective treatment for uncomplicated chlamydia for many years. This has resulted in the infection becoming resistant to the antibiotic, due to overuse. Over the years, the effectiveness has reduced, and doxycycline is now the first line recommended treatment for chlamydia.
What if I still have symptoms after taking antibiotics
If you still have symptoms such as discharge, pain around your genitals, or other symptoms associated with the infection, you should wait 1-2 weeks. Symptoms should start to ease off, however, if you are not noticing an improvement, you should visit your local GUM clinic. Because the effectiveness of azithromycin for chlamydia has reduced, you may wish to retest. There is also a possibility that you have another STI, which can be tested for at your local sexual health clinic.
Who should not take azithromycin?
Azithromycin is generally considered to be safe to take in most individuals, except in those that have any of the following:
People with allergies to azithromycin or macrolide antibiotics
Electrolyte disturbance
Myasthenia Gravis
Sever liver or kidney problems
Severe heart problems or any heart issues to do with abnormal heart rhythm
Do I need to eat when taking azithromycin?
The official advice states that azithromycin can be taken with or without food, however, we recommend taking azithromycin 1-2 hours before a meal, so that food does not affect the absorption of the tablets. You should avoid drinking milk or having any indigestion remedies 2 hours before or after taking the tablets, as this may affect the absorption of azithromycin.
Is azithromycin safe to take whilst pregnant or breastfeeding?
Azithromycin can be used safely in those that are pregnant. Traces of azithromycin can be found in breastmilk and you should visit your GP to discuss the use of azithromycin if you are breastfeeding or pregnant.
Can I take azithromycin if I am taking other medication?
You should discuss the use of azithromycin if you are taking any of the following:
Ergotamine (used to treat migraines)
Statins (used to treat high cholesterol)
Warfarin or any other blood thinners
Cisapride (used to treat stomach problems)
Zidovudine or Nelfinavir (used in the treatment of HIV)
Rifabutin (used to treat tuberculosis)
Quinidine or Digoxin (used to treat heart problems)
Cyclosporin (used as an after treatment in transplants)
Theophylline (used to treat breathing problems)
When should I see my doctor?
You should visit your GP or pharmacist if you are taking any medication that potentially may interact with azithromycin, you fall into the category of those in whom azithromycin may not be safe, you are pregnant or breastfeeding. Generally speaking, there is no need to visit your clinician again after treatment with azithromycin, as it has a very high success rate. If symptoms persist, there is a small chance it can still be chlamydia that hasn't been cured, but it is more likely to be attributed to another condition. You should see your doctor about getting further tests done such as a full STD screen.
Do I need to get tested again after taking azithromycin?
You should get tested six weeks after you finish taking azithromycin, because the effectiveness of azithromycin has reduced over recent times. The dose used to be 2 500mg pills as a single dose, but because of antibiotic resistant, more pills are now required. To get tested, you should visit your local GUM clinic, or buy an STD test kit online. You should also have another chlamydia test if symptoms persist two weeks after having taken the treatment, or you have not abstained from sexual activity for 7 days after having completed your treatment course. Those under the age of 25 who are sexually active are recommended to test for chlamydia on a regular basis.
If I have been diagnosed with chlamydia, do my partners need treatment too?
It is good practice for your sexual partners to be treated, as it is likely that you would have either caught the infection from them, or passed it onto them.
Can I complete a consultation on behalf of my partner?
Your partner would need to carry out a consultation themselves. The online questionnaire is designed to screen individual patients based on their current and past medical history, and they would need to be assessed before a prescription is issued, dispensed and dispatched from our pharmacy. Multiple orders from the same account will be rejected.
Is this a confidential service?
All your details are stored privately on a secure system. We will never share any information with anyone, and have implemented security measures to ensure your personal details are kept safe. Your medication will be delivered by post in plain packaging, with no reference made to the contents of the package, or our company in general.
What are the other treatment options?
Doxycycline is the first line treatment option in treating chlamydia. Some research has suggested that it is 100% effective in treating chlamydia, and needs to be taken twice a day for one week.
Buy azithromycin online
Untreated chlamydia can present numerous health complications, and it is recommended to treat chlamydia as soon as possible. If you have regular sexual partners, you should get tested every few months in order to avoid any complications associated with chlamydia. A simple course of antibiotics is sufficient, and has a high success rate in curing chlamydia. Simply fill out an online questionnaire, and have your medication delivered in discreet packaging to a destination of your choice.
Side-Effects
What are the side-effects of Azithromycin tablets?
Common side-effects of Azithromycin include
Headache
Stomach pain and cramping
Nausea
Diarrhoea
To see all the side-effects of Azithromycin, please see The Patient Information Leaflet
Patient Information Leaflet
For more information about Azithromycin chlaymdia treatment, take a look at the patient information leaflet below:
Where can I find out more information about Azithromycin?
To find out more information about Azithromycin, visit the NHS website.
Articles you may be interested in:
Product Reviews For Azithromycin Tablets