Sildenafil Reviews: What ED Sufferers Say About Generic Viagra
Whilst Viagra is arguably the most well-known medicine on the market for erectile dysfunction (ED), there are less expensive, generic tablets that work in the same way. They are made from the same active ingredient found in Viagra – sildenafil citrate. However, you can buy them for a fraction of the cost.
If you're considering sildenafil tablets to treat erectile dysfunction, you probably have questions about how well they work and what you can expect. One of the best sources for real-world information is the users themselves – by reading sildenafil reviews, you can find out what real erectile dysfunction sufferers think about the effects.
Let's take a look at what the reviews say so you can decide if sildenafil is right for you or not.
What is sildenafil?
Sildenafil is an erectile dysfunction treatment. Available in tablet form, you can take it up to four hours before you plan on having sex, to help get and keep an erection.
Like the brand-name version, Viagra, sildenafil works by increasing blood flow to the penis during arousal. Sildenafil citrate is the main active ingredient in Viagra, and sildenafil tablets are simply the generic version of this same medicine.
Does sildenafil work?
Both studies and feedback from customers show that sildenafil does work. According to a study on the long-term efficacy of sildenafil citrate (Viagra), over 95% of the participants reported that the treatment improves their ability to engage in sexual activity.
Sildenafil, which is a type of PDE5 (phosphodiesterase) inhibitor, relaxes blood vessels. This is the mechanism that leads to better blood flow to your penis during sexual stimulation.
What sildenafil won't do is cause an erection on its own. It is important to understand that this medicine is not a cure for erectile dysfunction, nor will it cause you to feel aroused. It allows you to achieve and maintain a satisfying erection when you are aroused.
What sildenafil reviews say
Sildenafil reviews tell us that most men who use this treatment are satisfied with the results.
According to online reviews, there are a few common pros and cons to taking sildenafil:
Pros
• It works as well as Viagra and is cheaper
• The effects are long-lasting
• Most men don't experience any side effects and is safe to use
• It is a proven treatment with a high success rate
Cons
• The effects can be inconsistent
• Some users report mild side effects such as headaches or an upset stomach
• The effects do not last as long as other ED medication such as tadalafil
• Food can affect the absoprtion of sildenafil
The good news is that most reviewers are successfully overcoming problems with sexual dysfunction and enjoying fulfilling sex lives thanks to sildenafil. Below are snippets of sildenafil reviews from Chemist Click patients.
"Does what it says on the tin, no issues whatsoever. Perfect."
"Product works as intended, has actually given me enough of a confidence boost that I still have 5 out of the 8 I bought not used yet; performance anxiety has diminished."
"This product is a game-changer, works with erectile dysfunction with the added benefit of being able to last longer before orgasm and shorter recharge time. Be sure to check with a doctor for the initial use of sildenafil."
Sildenafil 25mg reviews
The 25mg tablets can be a good option for anyone who experiences side effects with a larger dose. If you notice headache, pain, or nausea with the starting dosage – 50mg – talk to your doctor or pharmacist about switching to sildenafil 25mg tablets. If the 50mg has been successful but you are experiencing side effects, it is likely that sildenafil 25mg will be effective, with a lower chance of side effects.
Sildenafil 50mg reviews
This is the recommended starting dose if you are taking sildenafil for the first time, with many men finding it to be effective. If the 50mg dose is effective, you should not increase the dose to 100mg. There is no data to suggest that a higher dose will result in a better quality erection.
Sildenafil 100mg reviews
If you find that the 50mg dose of sildenafil is not working, you may wish to consider trying sildenafil 100mg. You should try taking sildenafil 50mg on eight separate occasions, before deciding to increase the dose. This allows you to mentally adjust and get used to the idea of taking a tablet to help get an erection. Always consult with your doctor or pharmacist before increasing the dose of sildenafil.
We don't recommend starting with 100mg because there is a higher risk of side effects.
Sildenafil vs Viagra
According to reviewers, both Sildenafil and Viagra are equally effective. Medically, there is no difference between sildenafil and Viagra. The main difference is cost. Sildenafil is more cost effective, which can be a huge advantage if you are very sexually active and need to take an erectile dysfunction treatment regularly.
Sildenafil vs Cialis
Both medicines are PDE5 inhibitors, so they work in the same way. Cialis, however, is known to last for much longer than sildenafil. Where sildenafil citrate is usually effective for around 4 hours, Cialis can last for around 36 hours.
Sildenafil vs tadalafil
Both sildenafil and tadalafil are generic treatments for ED, and they are both PDE5 inhibitors. Sildenafil is the generic form of Viagra. Tadalafil is the generic form of Cialis.
These treatments work in the same way, and clinical studies show they have almost the same effect on the body when used properly. The main difference between sildenafil and tadalafil, is that tadalafil is effective for 36 hours, which is considerably more than sildenafil, which lasts for up to 4 hours. Tadalafil also works slightly faster than sildenafil.
Sildenafil price – how much does it cost?
When it comes to price, sildenafil is the winner. It's far more cost-effective than brand-name options like Viagra or Cialis. Generic sildenafil prices start from around £6, which is 3-4 times cheaper than Viagra.
Sildenafil reviews and results are overwhelmingly positive
Join the ranks of satisfied customers. Both years of clinical studies and customer reviews show that sildenafil can offer excellent results for men suffering from ED. Talk to your doctor about trying sildenafil, or fill out our online questionnaire for sildenafil so you can get back to enjoying a confident, fulfilling sex life.
Learn more about erectile dysfunction and treatment options
Read about how sildenafil works and how it compares to other erectile dysfunction treatments.
Discover a breakdown of the differences between sildenafil and tadalafil.
Find out about what causes erectile dysfunction and what you can do about it.
How it works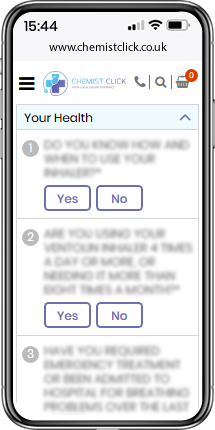 Complete
Questionnaire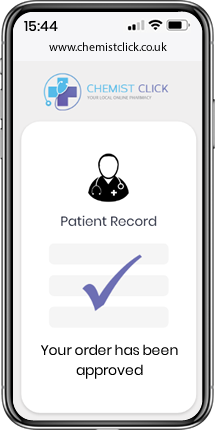 Suitability assessed by
UK based clinician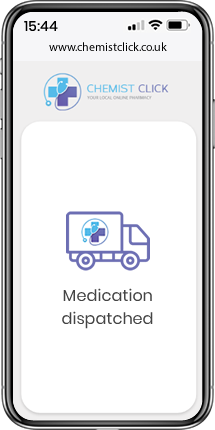 Next-day discreet
delivery
ABOUT OUR SERVICE
Chemist Click is an award-winning UK online pharmacy, offering a private prescription service. You can safely buy medication online, having it delivered to your door the next day in plain and discreet packaging. If you are using our online consultation service, you do not need a prescription. After you have completed the online questionnaire, a prescription is generated by our prescribers, which is then passed on to our in-house pharmacy. It is then dispensed and dispatched by our qualified pharmacy team. If you have a private prescription that you would like us to dispense, please contact our pharmacy team for a quote. We are a trusted UK online pharmacy with years of experience. Chemist Click is accredited by the MHRA and GPhC, ensuring that it is safe for you to buy medication online.
AS SEEN ON