Next Day Delivery
Plain & Discreet Packaging
Confidential Service
UK registered service
Sildenafil Tablets
Sildenafil (generic Viagra) is an erectile dysfunction treatment. It is a cost-effective option and well tolerated by most men. Sildenafil takes around 30-60 minutes to work and lasts for up to 4 hours.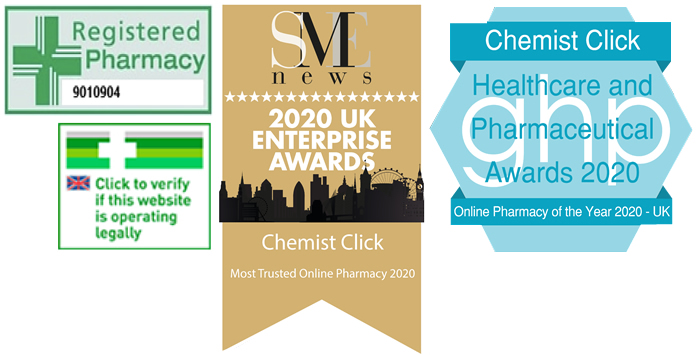 ABOUT Sildenafil Tablets
What is sildenafil?
Sildenafil is an erectile dysfunction treatment that belongs to the class of drugs known as PDE5 inhibitors. It is commonly referred to as "generic Viagra", as it contains the same active ingredient, sildenafil citrate.
Sildenafil helps men who suffer from erectile dysfunction to achieve and maintain an erection. It does this by increasing blood flow to the penis.
At least two thirds of men report improved erections after taking sildenafil, and sildenafil reviews suggest that it is a highly effective ED treatment.
Sildenafil comes in tablet form with varying strengths (25mg, 50mg, 100mg).
How does sildenafil work?
We've established that sildenafil helps increase the blood flow to the penis. But how does it achieve this?
When you are sexually aroused, a chemical messenger known as cGMP is released into the smooth muscle of the penis, allowing for an influx of blood. This causes an erection. An enzyme known as PDE5 breaks down cGMP, making it difficult to get an erection. Sildenafil blocks the action of PDE5 so that blood can enter the penis and help to achieve and maintain an erection.
Important note: Sildenafil will not increase your sex drive. If you are experiencing low libido, you should visit your doctor or pharmacist.
Sildenafil dosage
If you are taking sildenafil for the first time, the recommended dose is 50mg. You should take one tablet around 60 minutes before sexual activity. If you are experiencing side effects which are bothering you, you should reduce the dose to 25mg.
If you feel that you are not experiencing desirable effects, you should increase the sildenafil dosage to 100mg. You should speak to your doctor or pharmacist before increasing or decreasing the dose of sildenafil.
Sildenafil 25mg tablets
Sildenafil 25mg is the lowest dose available. Your doctor or pharmacist may recommend that you take sildenafil 25mg tablets if you are using medication that can cause an interaction, or if you have certain medical conditions. Your doctor or pharmacist may also suggest that you try sildenafil 25mg tablets if you are experiencing side effects with the 50mg tablets.
Sildenafil 50mg tablets
Sildenafil 50mg is the standard dose and the recommended starting dose if you have not taken sildenafil before. Most men will find that sildenafil 50mg tablets are effective and work well without intolerable side effects. If the 50mg tablets are not working well for you, your doctor or pharmacist may increase the dose to 100mg.
Sildenafil 100mg tablets
Sildenafil 100mg is the maximum dose that you can take. Your doctor or pharmacist may suggest that you try sildenafil 100mg tablets if the 50mg dose is not working well for you and you are not experiencing any side effects. There is a higher chance of experiencing side effects as you increase the strength.
Important note: The maximum dose of sildenafil is 100mg daily. You should never take more than 100mg of sildenafil within 24 hours. Taking too much sildenafil can cause dangerous side effects such as low blood pressure and priapism. You should seek medical attention if this happens. Always consult your doctor or pharmacist to discuss the most appropriate sildenafil dosage.
How to take sildenafil
You should take one tablet around 1 hour before sexual activity. Food can affect the absorption of sildenafil, so for best results, you should take sildenafil on an empty stomach or eat a light meal beforehand.
How long does it take for sildenafil to work?
Sildenafil tablets take around 30-60 minutes to kick in. The amount of sildenafil in your bloodstream peaks around 60 minutes after consumption, but it can take 30 minutes before it starts working.
Sildenafil is most effective when taken on an empty stomach, as it acts quicker this way. You can take a tablet after eating a meal, but this can affect the absorption and sildenafil may take longer to kick in. Fatty meals make it more difficult for sildenafil to enter the bloodstream and you may not feel the full effect if you take sildenafil after a heavy meal.
How long does sildenafil last for?
Sildenafil lasts for around 4 hours on average. This time frame may vary depending on certain factors. These include whether you take it on an empty stomach or after a meal, your metabolism, your weight, and the dose you take. Other factors such as your age, other medication you take, your general health and your state of mind can also affect how long the effects of sildenafil last.
What if it is not working for me?
If sildenafil tablets are not working, you should continue to take the tablets and use them on 8 separate occasions. There may be several reasons why sildenafil is not working. You should try taking a tablet on an empty stomach, avoiding alcohol, and leaving enough time to allow the tablet to work. You may also want to try using sildenafil in different scenarios.
If after 8 separate attempts you find that sildenafil is not providing the desired effect, you should speak to your doctor or pharmacist. There are alternative erectile dysfunction treatments such as:
Is sildenafil safe?
Sildenafil is safe to take for a lengthy period of time. There do not appear to be any long-term side effects from taking it. However, if you have certain medical conditions, you should consult with your doctor to check that it is safe for you to take.
Important note: You should not take sildenafil if you do not have ED. It will not make you last longer or give you a bigger erection. Taking sildenafil without ED can reduce your erectile confidence.
Who should not take sildenafil?
You should not take sildenafil tablets if you have any of the following:
An allergy to any of the ingredients in the tablet
Recent issues with your heart such as a heart attack or stroke
Low blood pressure
Angina
Sickle-cell anaemia, an abnormality of your red blood cells.
Liver or kidney problem
Problems with your eyes (not including poor vision such which requires correcting with glasses)
Leukaemia, cancer of the blood
Bone marrow cancer
An anatomical deformation of the penis
Bleeding disorders
Stomach ulcers
You may be eligible for treatment, but you should speak to your doctor beforehand.
Can I take sildenafil if I am taking other medication?
You should not take sildenafil if you have recently taken or you are currently taking medication called nitrates or nitric oxide donors, known as "poppers". A combination can cause your blood pressure to drop to a dangerously low level.
You should also not use sildenafil if you are taking riociguat, or other medication for erectile dysfunction, HIV medication, certain blood pressure medication or medication used to treat prostate enlargement.
Important note: There may be interactions with other medications. You should always inform your doctor or pharmacist of any medication or recreational drugs you are taking.
Can I drive or operate machinery after taking sildenafil?
Sildenafil may make you feel dizzy or lightheaded. You should assess your response to sildenafil before proceeding to drive or operate machinery.
Why are there different brands of sildenafil and what is the difference?
All drug manufacturers are free to produce sildenafil and many of them do. There is no difference in how effective each brand is. We obtain our stock from reputable UK wholesalers, and they all contain the same active ingredient, sildenafil citrate. The only difference is in the other ingredients such as the binding agents (what holds the drug into place) and the colouring. Common brands we stock include Teva and Accord. However, we can also obtain Pfizer, Mylan, Bristol, Dr Reddy, Sandoz, Actavis and Torrent brands. If you wish to obtain a certain brand, please make a note of this on your cosultation form.
Can women take sildenafil?
Sildenafil only works to treat erectile dysfunction and has no implication on libido or sexual desire. It should not be used by women and can potentially cause unwanted effects.
Can I order sildenafil for my partner?
This consultation process has been designed to assess the individual seeking treatment. It should be treated similarly to a doctor's consultation and cannot be completed on behalf of someone else. This is for safety reasons and in the best interests of our patients.
Can I use more than one sildenafil tablet in a day?
You should not take more than one sildenafil tablet within a 24-hour period. If you feel that sildenafil is not effective, you should discuss increasing the dose or trying a new treatment with a clinician.
Can sildenafil tablets be cut in half?
It is possible to split sildenafil tablets in half. Some tablets are scored with a line down the middle, making it easier to break in half. For those that aren't you should use a tablet cutter. This helps to ensure tablets are split evenly and minimises wastage by reducing any residue that can fall off a tablet when split incorrectly.
Can I use sildenafil with other treatments for ED?
Sildenafil should not be used together with other treatments for ED. This can result in an overdose which can be harmful to your health. You should leave a 24-hour gap between taking sildenafil and trying another ED treatment.
Sildenafil and alcohol
Drinking alcohol whilst taking sildenafil can be safe, but only if you are drinking in moderation. Excess alcohol consumption can worsen the side effects of taking sildenafil and can contribute to erectile dysfunction. Alcohol slows down certain functions of the body. Sildenafil works to increase blood flow to the penis. Alcohol constricts blood vessels reducing blood flow, and as a result, can counteract the effects of the drug.
There are also long-term effects of drinking and using sildenafil. It can cause inflammation of the prostate gland, which is linked to erectile dysfunction. Excess alcohol consumption can also reduce testosterone levels, which contributes to ED.
Sildenafil vs Viagra
Sildenafil and Viagra both contain the same active ingredient, sildenafil citrate. They are medically equivalent and work in the same way. In essence, sildenafil is as good as Viagra. They also are identical in their efficacy, safety and side effects. Both are available in the same dosages (25mg, 50mg, 100mg).
The reason why Viagra is more expensive is because Pfizer developed Viagra in 1996, investing heavily in product development and marketing. Once their exclusive license to be the sole manufacturer expired, it gave an opportunity for other pharmaceutical companies to start manufacturing Sildenafil as a non-branded medication.
Competition in the market is what keeps the price low. Most people who have taken Viagra will eventually turn to sildenafil, as it is a cost-effective option that provides the same results. Sildenafil tablets are also more widely prescribed on the NHS than Viagra.
Sildenafil vs Cialis
Cialis is another form of medication used to treat erectile dysfunction. It has an advantage over sildenafil as it works in as little as 30 minutes, and has a longer duration of up to 36 hours. However, this can be a disadvantage if you experience side effects, as they are also likely to last longer.
Whilst sildenafil has been around for longer than Cialis, both drugs have been around for over 18 years, and have proven to be safe and effective treatments for ED. Despite the differences between sildenafil and Cialis, both remain to be effective treatments for ED.
Can you buy sildenafil over the counter?
You can get Sildenafil on the NHS or through a private prescription if you have erectile dysfunction. However, you do need a prescription that is authorised by a medical professional to buy sildenafil. Online pharmacies such as Chemist Click can provide a prescription after the completion of an online consultation. We will dispense your prescription inhouse and post it to you in discreet packaging using a next day service.
We stock most brands including Teva and Accord, although there is no clinical difference between brands. If you prefer a certain brand, please let us know once you place your order.
Alternatively, you can visit your doctor who may be able to issue you with a prescription. You will need to take that to a pharmacy to have it dispensed. You can also buy sildenafil over the counter in the form of Viagra Connect or Eropid, but they are only available in a 50mg strength. You will need to have a consultation with a pharmacist to ensure that treatment is safe for you.
Side Effects
What are the side-effects of Sildenafil?
Like any form of medication, you should always take Sildenafil tablets with caution. As you may suspect, there are some side effects when it comes to taking Sildenafil. Luckily, these side effects are uncommon.
It has been reported that some men in the past have experienced:
Nausea
Vomiting
Diarrhoea
Back pain
Visual disturbances
Hot flushes
Allergic rash
Nasal congestion
Palpitations
Lightheadedness
These side-effects affect around 1-10% of users and are temporary. To see a full list of side-effects, please read the Patient Information Leaflet.
If you do experience any of these side effects and are concerned for your welfare, then it is strongly advised that you speak with your doctor to gain some expert advice as you may need to stop taking it. However, as previously mentioned, this is uncommon, so don't fear the worst.
Patient Information Leaflet
For more information about Sildenafil erectile dysfunction treatment, take a look at the patient information leaflet below:
Where can I find out more information about Sildenafil?
To find out more information about Sildenafil, visit the NHS website or take a look at some of our additional resources:
Product Reviews For Sildenafil Tablets
Due to the popularity of Sildenafil, there are plenty of reviews about the medicine online, and its average rating is quite high when it comes to treating erectile dysfunction. There are plenty of forums online for you to explore where users of Sildenafil share their experiences on how successful the medicine was and if it gave them any side effects. It is considered a successful form of medicine for erectile dysfunction, with many people using it across the globe.
Positives
An effective product for most users
It's cheaper than most counterparts
It only takes around 30 minutes to start working
Unlikely to encounter significant side effects
Negatives
May not be as effective as its counterparts
It doesn't last as long as other ED products like Tadalafil
Take a look at our dedicated sildenafil reviews page to find out what our customers are saying about this effective erectile dysfunction treatment.
Sildenafil PRICES
*Please note: We do NOT charge a prescription fee
| Medicine | x4 Tablets | x8 Tablets | x12 Tablets | x16 Tablets | x20 Tablets | x24 Tablets | x28 Tablets | x32 Tablets | x64 Tablets |
| --- | --- | --- | --- | --- | --- | --- | --- | --- | --- |
| Sildenafil Tablets 25mg | 5.89 | 9.45 | 13.45 | 16.99 | 20.99 | 24.75 | 28.49 | 31.99 | 48.99 |
| Sildenafil Tablets 50mg | 7.49 | 13.89 | 19.99 | 24.99 | 30.99 | 36.49 | 41.99 | 46.99 | 64.89 |
| Sildenafil Tablets 100mg | 8.20 | 14.89 | 21.49 | 25.99 | 32.20 | 38.40 | 44.49 | 48.99 | 78.99 |