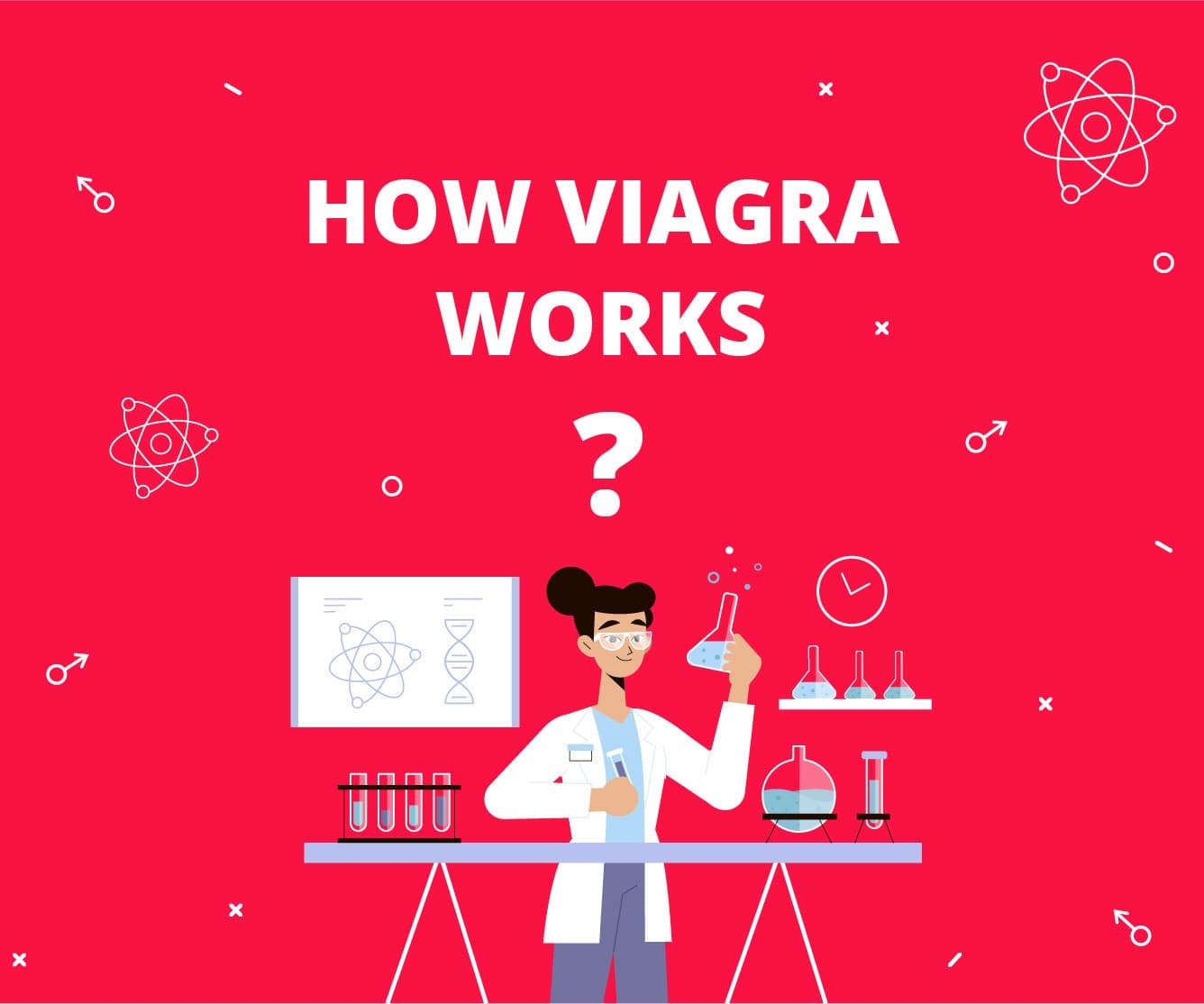 Finding it hard to get hard?
No fancy packaging. No unwanted subscriptions. Delivered discreetly.
Viagra
is an
erectile dysfunction (ED) treatment
, which
works by increasing blood flow to the penis
upon sexual stimulation. This allows men to achieve and maintain an erection firm enough for sexual activity. Viagra contains the active ingredient
sildenafil
and belongs to the class of medication known as PDE5 inhibitors. For those taking
Viagra for the first time
, or those thinking about trying Viagra, you may well have some questions. These can include finding out how Viagra works, how much Viagra to take for the first time, how long it takes to kick in, and how long the effects last.

What causes an erection?
To understand how Viagra works, it is important to establish how an erection occurs. During sexual arousal, nerve signals in the brain cause a chemical called cGMP to be released into the penis. cGMP causes smooth muscle in the penis to relax. This causes blood to enter, causing an erection.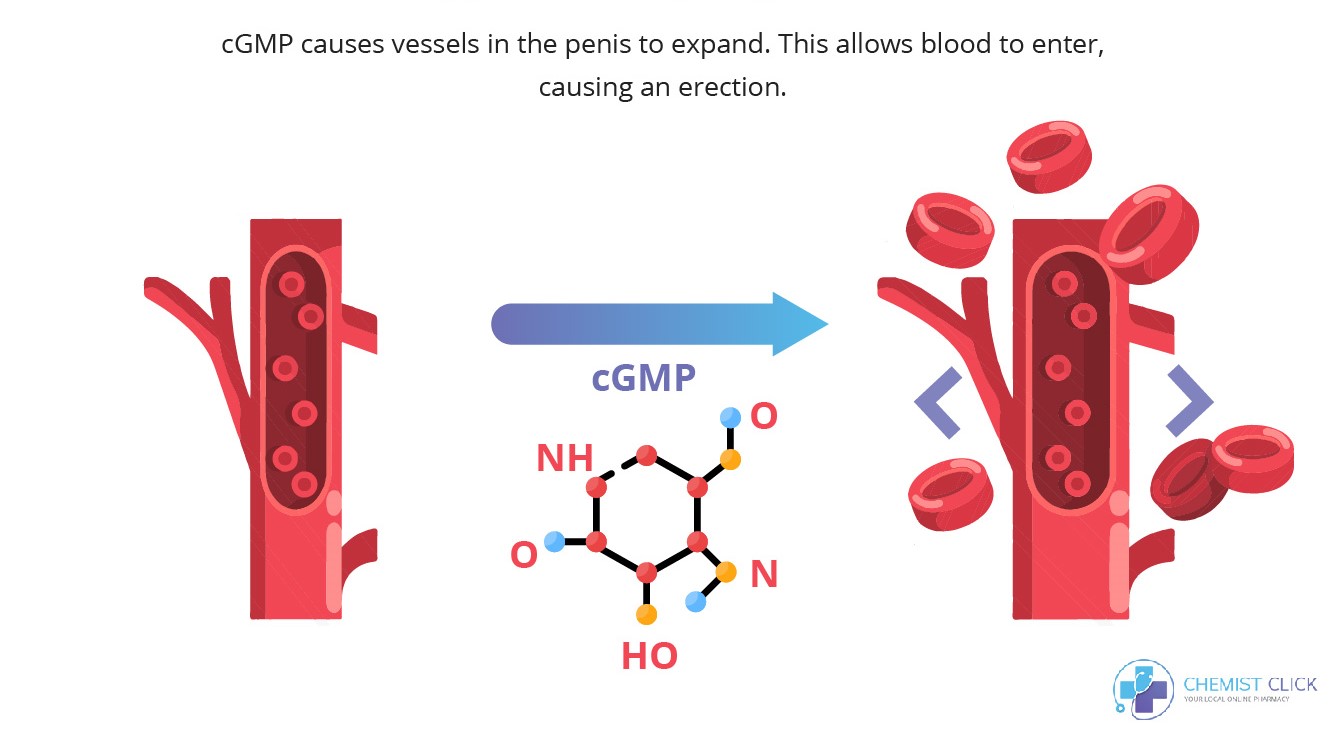 Why does erectile dysfunction happen?
ED happens when cGMP (the chemical that causes an erection) is broken down. It is broken down by an enzyme called PDE5. PDE5 is important as it causes an erect penis to return to its flaccid state after an orgasm. However, too much PDE5 can make it difficult to get and keep an erection, causing erectile dysfunction.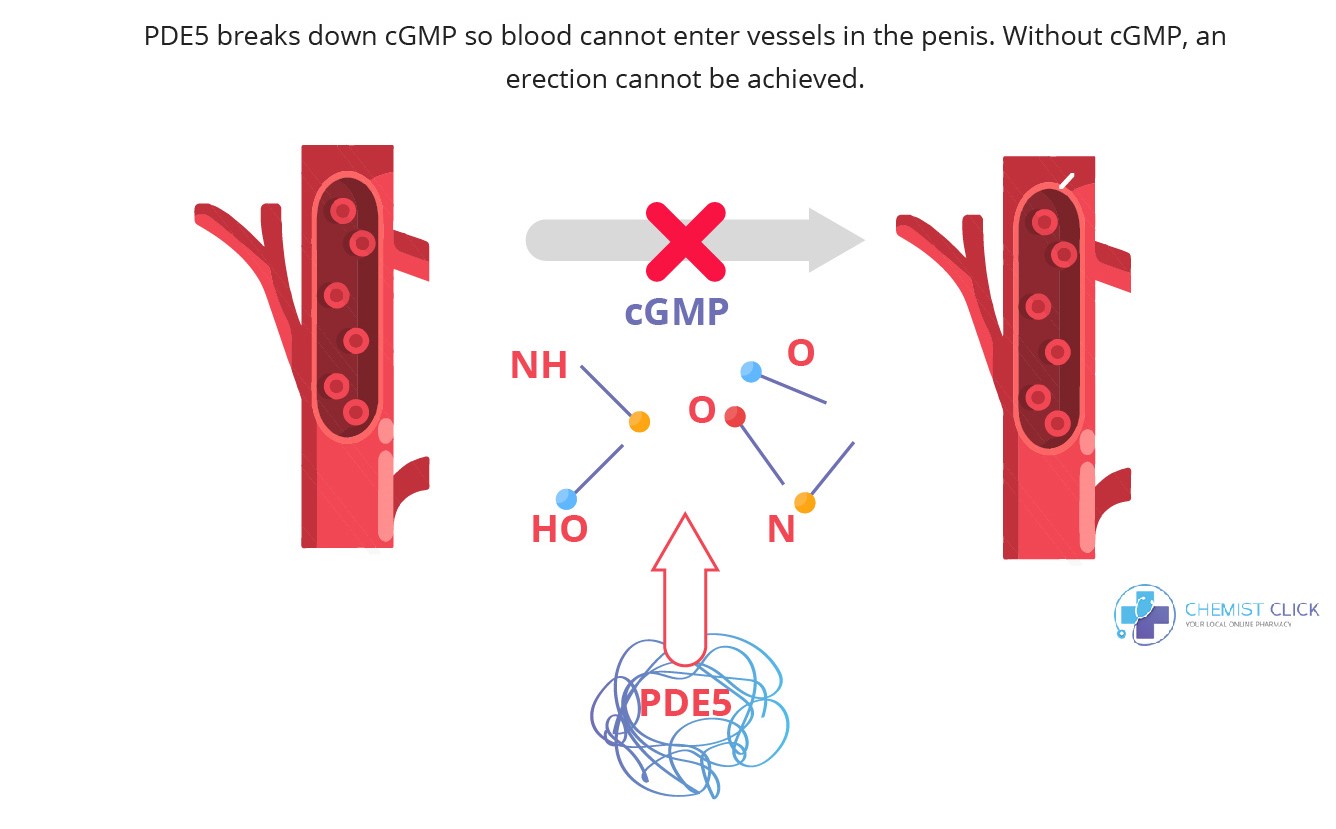 How does Viagra work? (The science behind the blue pill)
To recap, cGMP is released upon sexual stimulation. cGMP causes blood to enter the penis, causing an erection. But, PDE5 breaks down cGMP.
So, Viagra works by blocking the action of PDE5. This allows cGMP to circulate freely, increasing the flow of blood to the penis, causing an erection.
This is why Viagra is known as a "PDE5 inhibitor" because it inhibits PDE5.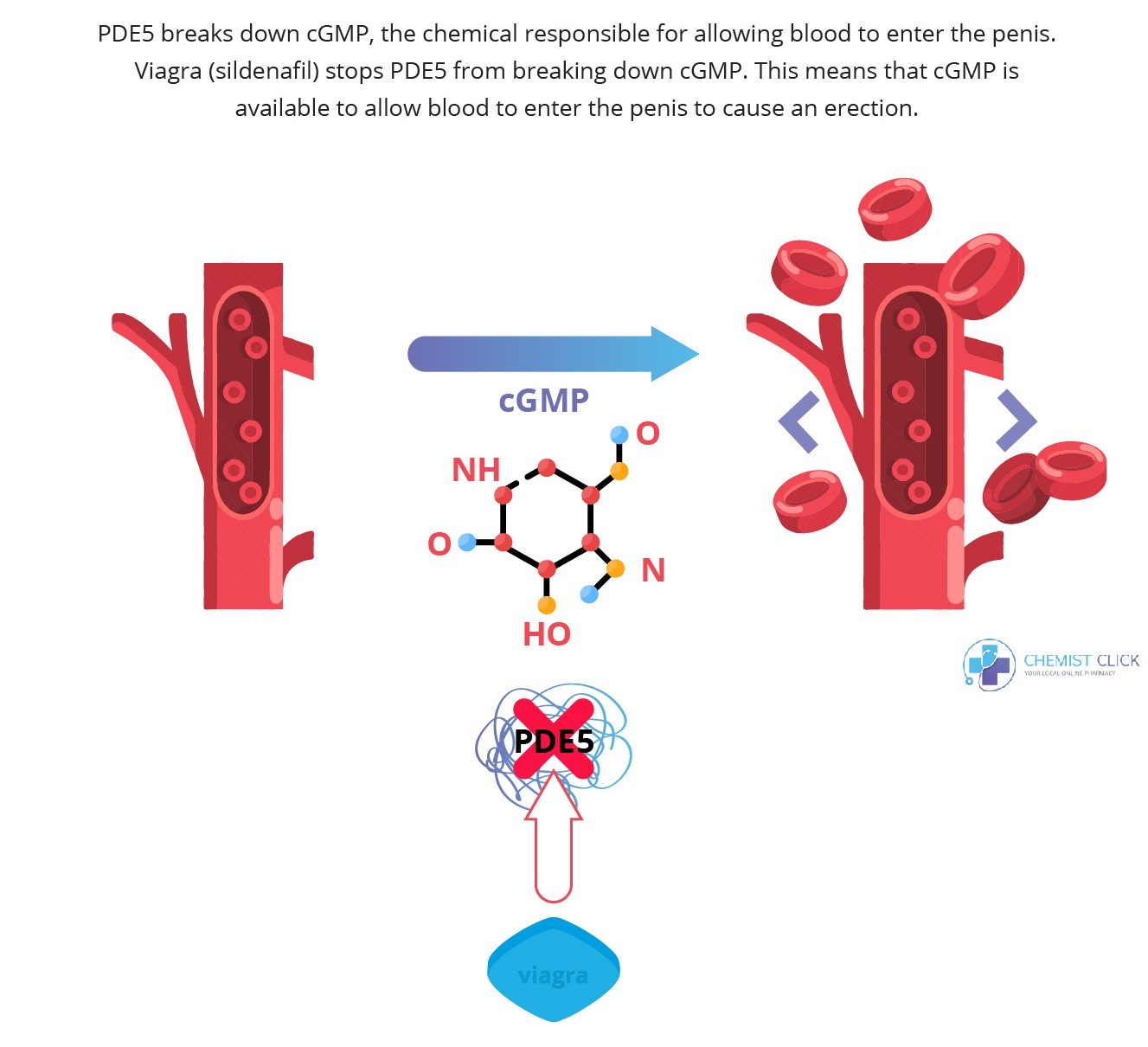 As well as working to help achieve an erection, Viagra also helps to maintain an erection. It allows cGMP to stay in circulation for longer. This helps to keep a good supply of blood to the penis, causing firmer erections for longer. This way, you are less likely to lose your erection.
It is important to note that Viagra does not work if you are not sexually stimulated, nor does it influence sexual desire. However, if Viagra has been successful in treating ED, this can help to improve confidence levels. An increase in sexual confidence can help to increase libido (sexual drive).
How much Viagra should I take?
If you are taking Viagra for the first time, the usual starting dose for sildenafil is 50mg. You should try taking this on 8 separate occasions, before deciding to increase the dose. Increasing the dose may be effective; however, a higher strength is likely to increase the chances of experiencing side effects.
Alternatively, if you have tried 50mg and you are experiencing side effects, you should speak to your doctor about reducing the dose to 25mg.
The maximum dose of Viagra is 100mg. You should not take more than 100mg in a 24-hour period. Taking more than 100mg can cause unwanted side effects such as headache, dizziness and priapism.
Even if you are taking a lower dose, you should not take 2 tablets of Viagra on the same day.
How long does Viagra take to work?
It takes around one hour for the effects of Viagra to kick in, so you should take Viagra around 60 minutes before sex. Food can affect the time it takes for sildenafil to work, so you may wish to take tablets on an empty stomach. Alcohol can also reduce the amount of blood that reaches the penis, which can reduce your ability to achieve an erection. Try to avoid more than two units of alcohol to increase the chances of Viagra working quicker.
How long does Viagra work for?
On average, Viagra works for four hours. This does not mean that you will have a permanent erection for four hours, but within this timeframe, you will be able to achieve and maintain an erection when you are sexually stimulated. This can depend on factors such as:
Body weight
Age
Meal consumption
Medication you may be taking
 
For most men, 50mg of Viagra is enough to provide the desired effect. However, if you find that the 50mg dose is not working well for you, you should speak to your doctor about increasing the dose to 100mg. 
What happens after you take Viagra?
What to do if Viagra is not working
Viagra doesn't work if you are not sexually stimulated. Viagra is not an aphrodisiac and will not increase your desire for sex. Your libido is influenced by different biological, psychological, and social elements. If you experience a lack of sexual desire, it could be due to such factors as a low testosterone level, stress, or sleep deprivation. Viagra works when you are aroused but are experiencing ED and have difficulty achieving and maintaining an erection.
If you are aroused but Viagra is not working, you can make lifestyle changes or try alternative medications and treatments.
Lifestyle changes
There are certain behavioural changes that have been successful in reducing or eliminating the occurrence of ED. For example, weight loss and increasing physical activity are known to improve erectile function.

Alternative medications
If Viagra is not working for you, there are other alternative tablets that can be considered. If advanced planning creates anxiety, different formulations have faster onset times or last longer, giving you more flexibility to schedule a sexual encounter.
Vardenafil - Closely related to Viagra, vardenafil is a PDE5 inhibitor sold under the trade names of Vivanza, Staxyn, and Levitra. It should be taken 30 minutes to an hour prior to sexual activity and is effective for up to six hours. This treatment is recommended for people with diabetes. It may be affected by food, especially a high-fat meal.
Tadalafil - Available under the brand names Cialis, tadalafil is called "the weekend pill" because it can function for up to 36 hours. Take it 30-60 minutes before sex, with or without food. It is also available at a lower strength that can be taken daily and has a continuous effect, allowing you more freedom to perform spontaneously. 
Avanafil: Marketed in the UK as Spedra and in the US as Stendra, avanafil acts quickly and can be taken with or without food 15 to 30 minutes before sex and lasts up to four hours, giving you more spontaneity.
How to use Viagra for the best results
To have a good outcome when taking Viagra, it is important to know what routine works best for you. Everyone is different, and your age and weight can affect how Viagra works. The more you understand the effect that Viagra has on your body, the better you can schedule your planning for the best results.
Remember, a heavy meal can delay or prevent absorption into your system, so Viagra should be taken on an empty stomach, or with a light meal. Since Viagra works for up to four hours, there is no need to rush. You should be able to have a light meal and a drink or two while the medication starts to work. Avoid more than 2 units of alcohol, as excess alcohol can reduce the chances of getting an erection.
Next, you need to become aroused so that your brain will start the process that fills your penis with blood. Sexual thoughts and physical stimulation release nitric oxide, a neurotransmitter that triggers the process of achieving an erection. Relaxing and engaging in foreplay can help to get in the mood and ease your mind, increasing the chances of Viagra working. 
When you experience positive results on a regular basis, your confidence will grow. With experience, you will  develop a routine you can depend on so that Viagra works to give you the best personal results.
Is Viagra safe to take?
Since Viagra first introduced itself to the market in 1998, it has been used safely by millions of men. The most common side effects are headaches, hot flashes, and dizziness, but many men have minimal or no adverse reactions. Viagra should not be taken if you take nitrates for chest pain. As with any medication, consult your doctor or pharmacist to be sure it is right for you.
Does Viagra work? (what the science says)
A study analysing the outcome of sildenafil in 979 men reported that 95% of men were satisfied with the outcome of treatment.
Another study looking at the treatment of ED in 254 men who had been experiencing ED for more than six months, reported that 74% of men experienced an improvement in the quality of erections.
Online sildenafil reviews also suggest that Viagra is effective and works well for most men. 
So, in short, yes, Viagra does work. There are multiple studies that prove this to be true; we've only shown a few of them. Viagra has revolutionised the treatment of erectile dysfunction, and improved the quality of life of millions of men around the world. This not only is backed up by science but the fact that Viagra continues to be the most prescribed treatment for ED, who return due to the high success rate.
Whilst all of our content is written and reviewed by healthcare professionals, it is not intended to be substituted for or used as medical advice. If you have any questions or concerns about your health, please speak to your doctor.