Fexofenadine Reviews
Fexofenadine reviews are useful in helping you to decide if this tablet is the right treatment for your allergy. User reviews provide you with valuable information about the product and the user's experiences. These appraisals from fexofenadine customers can help to guide you in your choice of medication.
Here is an overview of our fexofenadine reviews gathered on the independent review website, Trustpilot.
Fexofenadine is an antihistamine daily tablet that helps with the symptoms of allergies.
It is a popular choice as it is one of the stronger antihistamines with a high success rate, easy to take, non-drowsy, and has a low side-effect profile.
It is available in 30mg, 120mg and 180mg doses. How much you take will depend on the allergy you are treating and your response to the medication. Your doctor or pharmacist will advise. Chemist Click offers both 120mg and 180mg fexofenadine tablets. You can receive your recommended dose and medication, after completing our online medical consultation.
This daily medicine starts to relieve your symptoms within 1 hour and lasts for 24 hours. The active ingredient is fexofenadine hydrochloride that blocks the action of histamine. When you have an allergic reaction, your body produces histamine. This chemical is a part of your immune system and causes the symptoms you associate with allergies.
Fexofenadine relieves seasonal allergy symptoms including sneezing, runny nose, itching, and watery eyes due to hay fever. It is also used to relieve symptoms of hives, including itching and rashes in adults and older children, and reactions to insect stings and bites and some mild food allergies.
What do the reviews of fexofenadine show?
What is fexofenadine 120mg used for?
Fexofenadine 120mg is the usual daily dose for treating hay fever and allergies for adults and children aged 12 and over.
Fexofenadine 120 mg is one of two options available when purchasing fexofenadine tablets from Chemist Click.
What is fexofenadine 180mg used for?
The usual dose for treating adults and children aged 12 and over with hives or itchy skin lasting 6 weeks or more is a daily fexofenadine 180mg tablet. Fexofenadine is not recommended for treating hives in children under 12.
The maximum dose of fexofenadine that you can take in one day is 180mg. However, some people may be prescribed more than this by a specialist for specific scenarios.
Fexofenadine 180mg is one of two options available when purchasing fexofenadine tablets from Chemist Click.
Fexofenadine 120mg reviews
Fexofenadine 120mg is the recommended dose to treat hay fever and seasonal allergies. Read some independent fexofenadine 120mg reviews.
"Fexofenadine does the job so well. I couldn't honestly live normally without these."
"No sneezing, no cough, no itching, big relief."
"So good. I hardly have any symptoms of hay-fever when taking one of these. I couldn't go back to anything else now."
"Perfect for the serious year-round hay fever I experience using the 120s. This is far superior to the over-the-counter meds."
Fexofenadine 180mg reviews
Fexofenadine 180mg is used to treat hives and chronic itchy skin. If the lower strength tablet of fexofenadine 120mg is not working for your allergy, then this higher dose may help. Speak to your doctor or pharmacist about increasing your dose if needed.
Read some independent Fexofenadine 180mg reviews.
"Perfect relief for itchy rashes and hives non respondent to other antihistamines."
"Great product"
Fexofenadine hydrocholoride reviews: The Verdict
Fexofenadine hydrocholoride is a strong antihistamine that is proven to relieve allergy symptoms for many people. This daily tablet is easy to take and is unlikely to cause drowsiness or serious side effects.
Our Trustpilot reviews for fexofenadine hydrocholoride advocate the effectiveness of this medication in treating the symptoms of allergies including hay fever and hives.
Here is what our average customer thought of fexofenadine hydrocholoride medication:
Effectiveness: The average user finds fexofenadine helps to relieve their symptoms of seasonal allergies and hives.
Value: You can order fexofenadine tablets online from Chemist Click at a much cheaper price than other branded fexofenadine medications including Telfast and Allegra that contain the same active ingredient.
Ease of purchase: Many customers prefer to conveniently and safely buy fexofenadine hydrocholoride from an online pharmacy with next day delivery.
How it works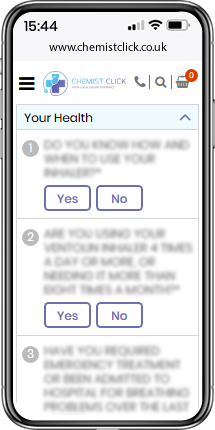 Complete
Questionnaire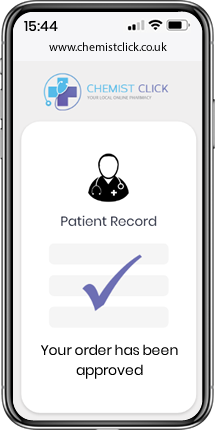 Suitability assessed by
UK based clinician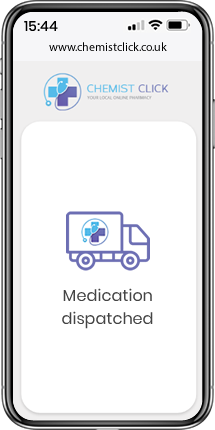 Next-day discreet
delivery
ABOUT OUR SERVICE
Chemist Click is an award-winning UK online pharmacy, offering a private prescription service. You can safely buy medication online, having it delivered to your door the next day in plain and discreet packaging. If you are using our online consultation service, you do not need a prescription. After you have completed the online questionnaire, a prescription is generated by our prescribers, which is then passed on to our in-house pharmacy. It is then dispensed and dispatched by our qualified pharmacy team. If you have a private prescription that you would like us to dispense, please contact our pharmacy team for a quote. We are a trusted UK online pharmacy with years of experience. Chemist Click is accredited by the MHRA and GPhC, ensuring that it is safe for you to buy medication online.
AS SEEN ON