Orlistat Results: What to Expect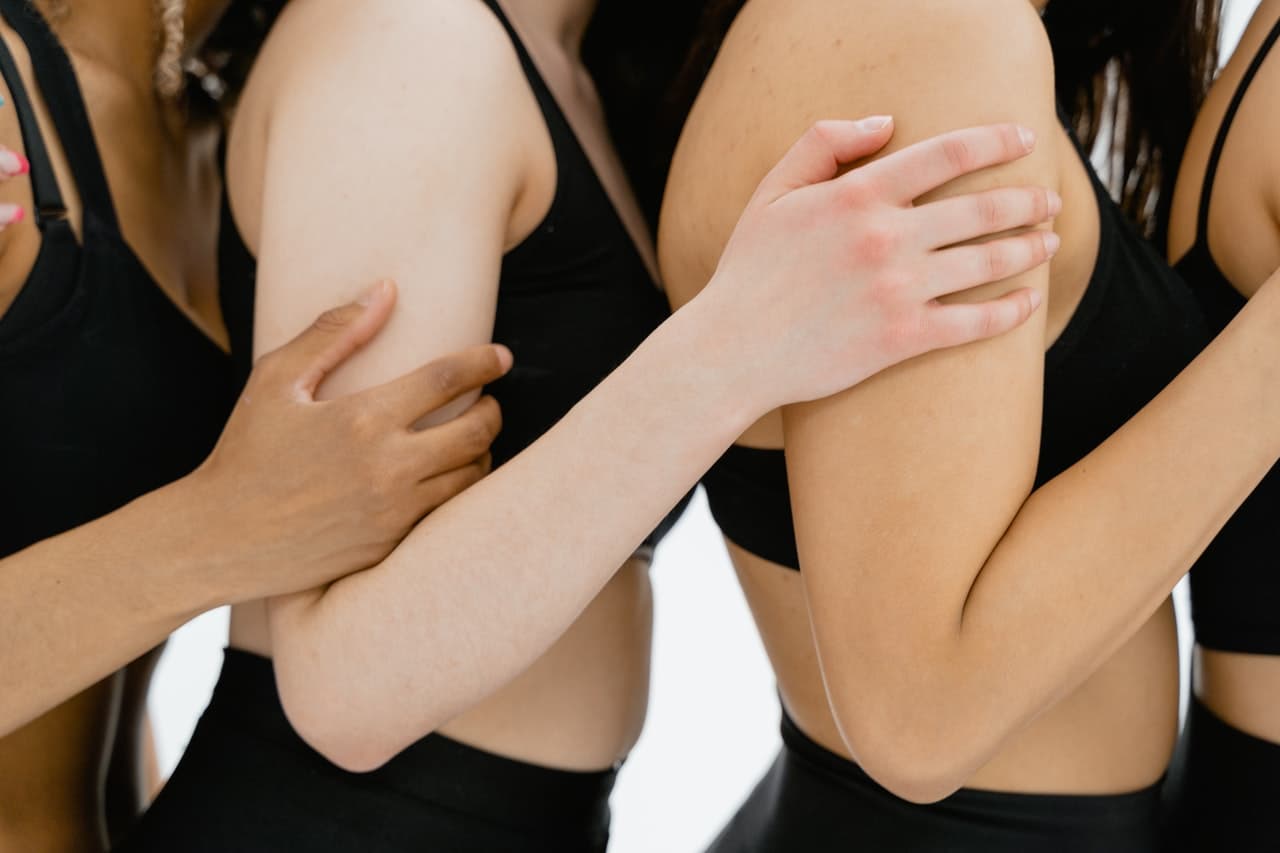 Orlistat is a well-established weight loss tablet in the UK and the US. It is also known by its branded names, Xenical, or Alli. Intended for individuals who have a body mass index (BMI) of 30 or above (or 28 and above for those who have type 2 diabetes, high blood pressure, or other weight-related conditions), it is most effective when used in conjunction with a healthy, low-calorie diet. Your doctor or pharmacist may also recommend other lifestyle changes to help you get the best results from taking orlistat.
Those who are overweight or obese and follow a plan for weight loss can expect good results from orlistat. Orlistat is a licensed weight loss pill which has been proven to work, backed by scientific trials.
What is orlistat?
Orlistat is the generic form of two well-known weight loss medicines: Xenical and Alli. Not everyone can take orlistat – to qualify for either form, you'll need to talk to a medical professional. Your GP or pharmacist can prescribe Xenical or the non-branded orlistat, and Alli is available to buy over the counter after a consultation. Here's what you need to know about taking orlistat for weight loss:
Orlistat 120mg is the prescription medicine, and Alli is available over the counter.
Prescription orlistat is a 120-milligram tablet, whilst Alli, a 60-milligram tablet, is the lower-dose version.
If you experience good results with orlistat after three months, your doctor or pharmacist may recommend that you continue taking it. Otherwise, they may suggest another treatment.
Orlistat's mechanism of action
Orlistat is different from many other weight loss medications in that it doesn't affect the nervous system. It's not a stimulant, so it won't make you feel anxious or keep you up at night.
It is a lipase inhibitor, which means that orlistat works by preventing the breakdown of fat. Normally, when you eat a meal, lipase, which is found in the digestive tract, gets to work breaking down dietary fat. Those smaller fat components are either used for energy or stored by your body.
When you have a stored fat, shedding it can be difficult. Unless you are in a calorie deficit, usually achieved by eating less and exercising more, weight loss will not occur.
By blocking a portion of dietary fat from ever being absorbed, taking orlistat may stop your body from storing some of the fat you ingest from your meals. As a result, you may have an easier time shedding some excess weight through diet and exercise.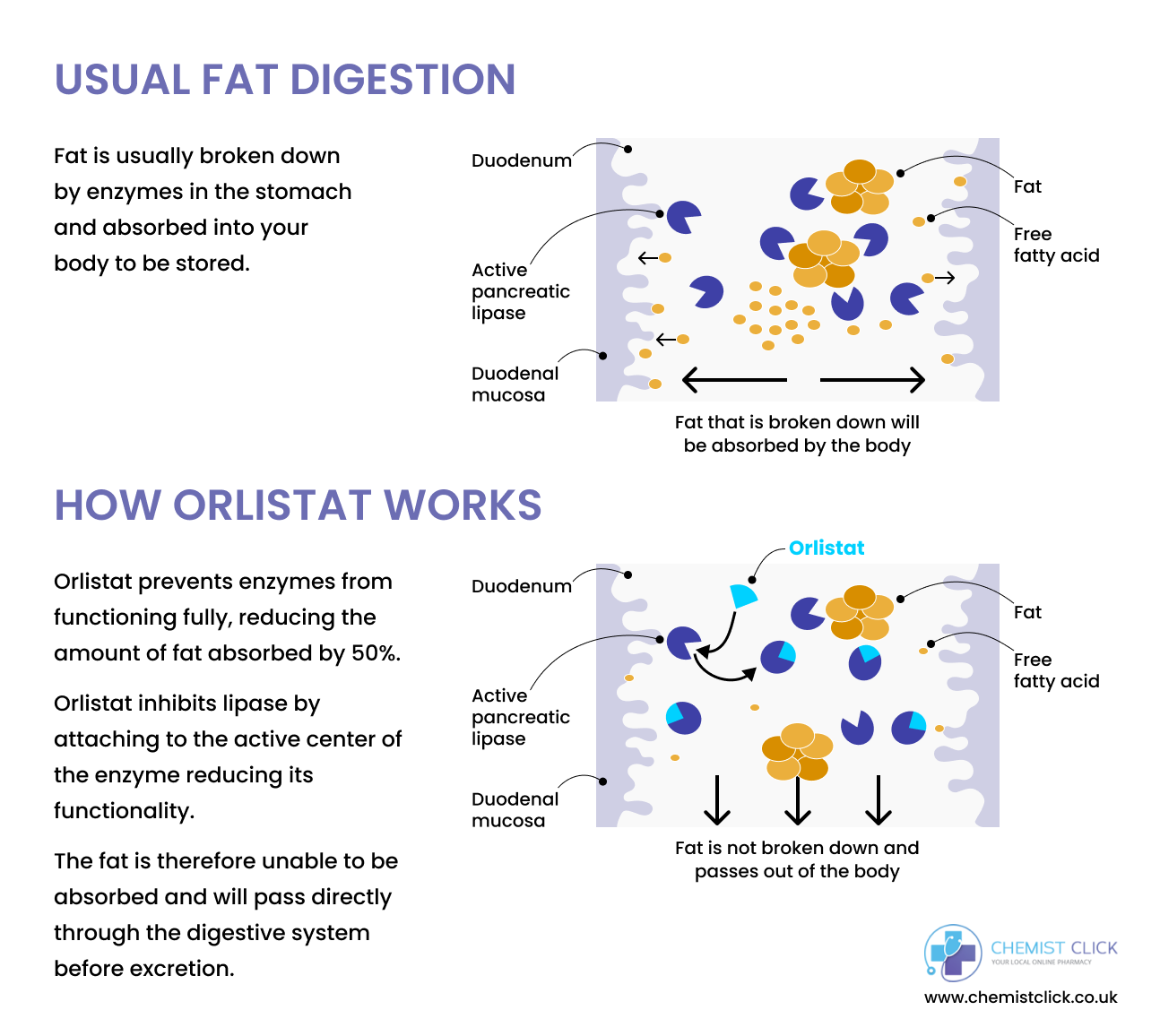 What happens when you take orlistat?
When you take orlistat, your body will absorb some fat calories and block the rest. This undigested fat then passes out of your body with your stools. In this way, it can stop you from gaining more weight.
Prescription-strength orlistat works by blocking about 30 per cent of the fat you ingest while eating. Alli, which is not as strong, may block about 15 per cent.
Orlistat results – what studies say about this weight loss medicine
This weight loss medicine is known for offering consistent yet modest results. Orlistat has been shown in studies to help obese patients lose weight and shrink their waistline.
One study published in 2011 found that participants who took 120 milligrams of orlistat three times a day saw a significant drop in weight and a smaller waist circumference after 24 weeks. Everyone who participated in the study started with a BMI of 30 or higher.
The results? Those who took orlistat lost 4.65 kg, compared to 2.5 kg among those taking the placebo. As far as waste circumference, participants taking orlistat lost 4.84 cm. Those who took the placebo lost 2 cm. Taking orlistat was also linked to improvements in cholesterol levels.
In 2007, researchers published a review of previous clinical trials and reviews of orlistat, looking at controlled trials conducted between 1998 and 2007. These researchers found that, overall, orlistat results are definite, although they aren't always significant.
The results? Overweight or obese patients who take orlistat can expect to lose around 3 per cent more weight than what they would likely lose from diet alone. Some people will lose more than this. And others may not see noticeable results from taking orlistat.
How long does it take to see results with orlistat?
Orlistat starts working right away, so you may begin to notice a difference within the first two weeks. If you have not experienced any weight loss within the first 1 month of using orlistat, you may wish to reconsider your chosen method of weight loss. You should also visit your pharmacist, to see if any changes can be made to help you improve your diet and exercise regime.
After three months, your doctor or pharmacist may want to discuss your results with you. They may recommend another treatment if you haven't lost 5 per cent of your body weight at that point. Or, they may talk to you about changes you can make to your diet and your exercise habits to help increase the effects of taking orlistat. If you are making good progress and have lost 5% or more of your initial weight, you may be prescribed orlistat until your BMI reaches 30.
How do you get the best results from orlistat?
The way orlistat works, it isn't likely to lead to significant results without changes to your diet and lifestyle. This weight loss pill doesn't, in itself, cause you to lose weight. Instead, it stops your body from accumulating more stored fat from the food you eat.
To get the best results from orlistat:
Talk to your GP or a licenced nutritionist about creating a plan for a balanced, low-calorie diet for you. It's important to consume plenty of low-fat, high-fibre foods such as fresh vegetables and fruits, poached or grilled fish and chicken, lean cuts of beef, low-fat dairy, and whole grains.
Try not to eat more than you normally do. Orlistat will decrease fat absorption, but if you're still consuming a lot of calories, you're not likely to experience satisfying results.
Don't skip meals. For best results, you should take orlistat three times a day right before, during, or up to one hour after eating a meal.
Keep your body moving with the right amount of physical activity. Your doctor can suggest an exercise plan for you – be consistent, and you'll burn more calories, which will help you achieve the weight loss you want to see.
What to do if orlistat is not working?
Most people lose weight within the first three to six months of taking orlistat, so don't worry if you don't notice results within the first few weeks.
If, after three or more months, you're still not losing weight, contact your doctor or pharmacist. They can help you decide what steps to take next.
Whilst all of our content is written and reviewed by healthcare professionals, it is not intended to be substituted for or used as medical advice. If you have any questions or concerns about your health, please speak to your doctor.