Viagra vs Sildenafil - What is the difference?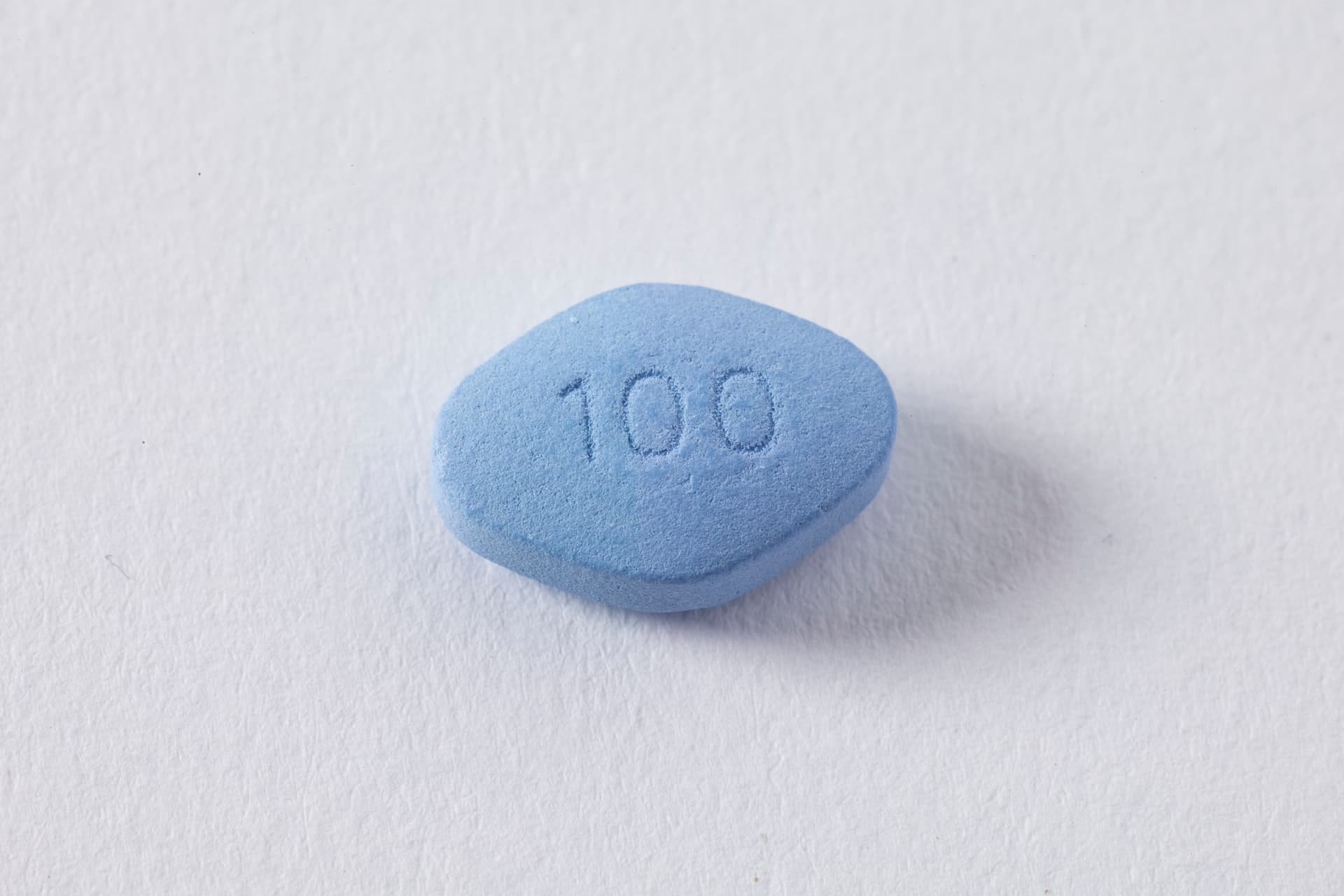 Science means that ED can be optional.
No fancy packaging. No unwanted subscriptions. Delivered discreetly.
Viagra and sildenafil are both medications used to treat erectile dysfunction (ED). Viagra, commonly known as the little blue pill, was first developed by the American pharmaceutical company Pfizer. It's the brand-name version of sildenafil citrate. Sildenafil is the generic version.
When looking for an effective treatment for ED, men can choose Viagra or sildenafil pills and expect the same results. So, how are Viagra and sildenafil different? Which one should you take?
Viagra vs. sildenafil
The bottom line is, both Viagra and sildenafil contain the same active ingredient: sildenafil citrate. So, they both will have the same effect on your body.
Sildenafil citrate is a phosphodiesterase type 5 (PDE5) inhibitor – a class of drugs that encourage blood vessels to relax, allowing for an influx of blood which causes an erection.
Pfizer originally tested sildenafil as a treatment for coronary heart disease. However, during the first clinical trial in 1991, researchers found out that the medication was not effective for coronary heart disease – but it was causing erections as a side effect.
So, the pharmaceutical company switched gears and started testing sildenafil as a treatment for ED. By 1998, Pfizer's sildenafil, which they sell under the brand name Viagra, was approved as the first oral treatment for men with erectile dysfunction both in the United States and in Europe.
In 2013, the UK patent on Viagra expired, which enabled other pharmaceutical companies to start selling their own version of Pfizer's Viagra. In the US, the patent expired in 2020.
Today, men looking for erectile dysfunction treatment have more options than they did a few short years ago. In addition to sildenafil and Viagra, there's an over-the-counter version of Viagra known as Viagra Connect (over the counter Viagra), as well as different oral medications that are made with other types of PDE5 inhibitors, such as tadalafil and vardenafil.
What is the difference between Viagra and sildenafil?
Is sildenafil as good as Viagra? or, Is Viagra better than sildenafil? When it comes to your experience, are there any factors that could make one medication work better than the other?
Sildenafil is the same as Viagra, so you won't notice a difference in sexual performance. Once you take a pill of either one, it will start working within 30 to 60 minutes and last for around four hours. Factors such as eating a heavy meal after taking an ED pill or drinking excessively can make the active ingredient, sildenafil citrate, less effective. The pill itself won't cause an erection. Instead, it allows you to achieve and maintain an erection, fir enough for sexual intercourse.
When it comes to side effects, there are no differences between sildenafil and Viagra. When taken as a treatment for ED, you may experience minor side effects or none at all. Potential side effects can include:
Blurry vision
Facial flushing
Diarrhoea
Heartburn

If you take more than the recommended dose for Viagra or sildenafil, or mix the pill with other drugs, or more than one or two alcoholic drinks, you're more at risk of serious side effects such as dizziness, sudden loss of vision, or hearing problems. If you notice any of these, contact your doctor right away. However, if taken correctly and as prescribed by your doctor or pharmacist, sildenafil and Viagra are safe to take.
What is the difference between generic Viagra and Viagra?
There is no medical difference between generic Viagra and Viagra. Generic Viagra is sildenafil. When deciding which medication to take, the only real difference is the price, with generic Viagra being priced much cheaper than Viagra.
However, this doesn't mean that it is safe to purchase any erectile dysfunction medication you find online which is marketed similar to Viagra. In 2011, Pfizer conducted a chemical analysis of the pills sold over the internet, which appear in the top search results for the phrase, "buy Viagra." They found that 80 per cent of those pills were counterfeit.
To buy Viagra safely online, whether you're getting Viagra or generic Viagra (sildenafil), always purchase from a reputable pharmacy. Counterfeit pills may be dangerous or ineffective.
Sildenafil over-the-counter, AKA Viagra Connect – What you need to know
Until recently, Viagra and sildenafil were only available with a prescription. However, today, you can buy Viagra over the counter from a licensed pharmacist, in the form of Viagra Connect.
Viagra Connect, which is essentially the brand name for over-the-counter sildenafil, contains the same ingredients as the prescription version. It works in the same way as sildenafil and Viagra – you can take a Viagra Connect tablet about an hour before you'd like to have a firm erection. It works by allowing blood to flow more easily to the penis during arousal. The effects generally last for around four hours. Like Viagra, it is also manufactured by Pfizer.
The one distinction between Viagra and Viagra Connect is the dosage amount.
Regular Viagra pills are available as 50 mg tablets, 100 mg tablets, or in a smaller dose as 25 mg tablets.
Viagra Connect pills contain 50 mg of sildenafil citrate. They aren't available in different doses.
The difference in price between Viagra and sildenafil
As the generic form of Viagra, you can expect sildenafil to cost less. With a more competitive price on the market, men suffering from ED have more options, making it easier to treat erectile dysfunction and enjoy a healthy sex life.
Here are the current prices for Viagra, sildenafil, and Viagra Connect:
| | | | |
| --- | --- | --- | --- |
|   | Sildenafil | Viagra | Viagra Connect |
| Price 50mg x 4 Tablets | £7.49 | £18.75 | £16.99 |
*Prices may vary depending on the dose and quantity
Viagra vs. sildenafil – What's the difference?
Ultimately, Viagra (prescription Viagra), sildenafil (generic Viagra), and Viagra Connect (over-the-counter Viagra) are all the same thing because they all contain the active ingredient sildenafil citrate.
You can expect the medical effects, the pill quality, and your personal experience to be identical, as they contain the same active ingredient, sildenafil citrate.
Whilst all of our content is written and reviewed by healthcare professionals, it is not intended to be substituted for or used as medical advice. If you have any questions or concerns about your health, please speak to your doctor.