Lariam Tablets

Lariam is an antimalarial medication, containing the active ingredient mefloquine. It needs to be taken once a week, starting 1 week before entering the malaria zone, whilst there and for 4 weeks after.
Next Day Delivery
Plain & Discreet Packaging
Confidential Service
UK registered service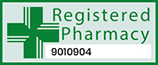 ABOUT Lariam Tablets
What is Lariam?
Lariam is an antimalarial drug for the prevention and treatment of a particular type of malaria called falciparum malaria. It is a relatively fatal form of malaria caused by parasite strains like P.falciparum and P.vivax, which are mostly resistant to other commonly used antimalarial drugs like chloroquine.
Lariam is available in 250 mg tablet form.
How does Lariam work?
The active ingredient in the Lariam tablets is Mefloquine hydrochloride, a preventive drug against malaria. Malaria is fatal diseases caused by a parasite, plasmodium which is transferred to the human body in result of a mosquito bite. Plasmodium is injected into the bloodstream during a bite from an infected mosquito. The parasites travel to the liver and reproduce they're resulting in the disease.
Lariam protects the body from malaria by killing the parasites after its release from the liver into the bloodstream and interferes its growth in the red blood cells.
How do I take Lariam?
The recommended preventive dose of Lariam is one tablet of 250mg per week. It should be taken on the same day of the week, depending on the duration of stay in the malarial region.
Start taking the tablet one week before arrival to the malarial area (prophylactic treatment)
Take one tablet every week throughout your stay
Continue taking the pill for four weeks after leaving the area (to inhibit the reproduction of parasites, if you have infected)
The dose to be taken is adjusted according to the bodyweight of the person.
For adults weighing 45kg or more, the dose is one tablet per week.
For adults or children weighing 31 to 45kg, the treatment is three-quarters of Lariam tablets.
Adults or children weighing range of 20 to 30kg should take half a pill once a week.
Children weighing from 5 to 19kg should take a quarter of a tablet.
It is advisable to consult your doctor or pharmacist before taking the tablet to have a proper dose adjustment. Lariam should be taken with a glass of water or milk, preferably not on an empty stomach.
What if I miss a dose of Lariam?
If you miss a dose of Lariam, then take it as soon as you remember to take it. Continue taking the next doses weekly from the day on which you have taken the missed dose. Avoid taking more than one tablet in a week.
Who should not take Lariam?
People with the following disorders must consult their doctor to find out whether the Lariam is safe for them or not if they have
Heart disease
Epilepsy
Liver disease
Diabetes
Blood clotting problem
Patients taking blood-thinning medicines such as warfarin, Coumadin, Jantoven etc
People who have had blackwater fever, a severe malarial complication.
Can I take Lariam during pregnancy or breastfeeding?
Pregnancy
The pregnant women are more at the stake of having malaria, so it is better to avoid the malarial region as a precautionary measure. The risk of stillbirth, miscarriage, and neonatal death increases if the expecting mother suffers from malaria. If it is unavoidable to go, then these women should use repellents to avoid mosquito bites.
Regarding the safety of Lariam in pregnant women, it has not been completely established. However, the use of Lariam can be allowed by the doctors when there is increased risk of medical problems due to malaria than any other threat that is associated with Lariam intake. As the safety of the drug has not been completely developed, women should use contraceptives to avoid pregnancy when they are on Lariam therapy and up to three months after stopping Lariam intake. But if you have already been pregnant, then there is no reason to terminate the pregnancy.
Breastfeeding
Although a minimal amount of drug passes into the breast milk and is not dangerous for the feeding infant, it is better to take your doctors' advice if you are a nursing mother. A nursing mother should only take Lariam if its benefits outweigh any risk that is associated with the infant on breastmilk.
It is vital to consider that the amount of medicine passed in mothers' milk is not enough to protect the baby against malaria. In case of need, the baby should be given its dose of Lariam to be protected against disease. Whereas if both mother and infant are taking Lariam, then the amount of drug passed in the infant should be closely monitored particularly in low weight babies.
Warnings and Precautions
Specific precautionary measures should be taken if you are suffering from any underlying health condition and should be consulted in detail with your doctor. Some of the conditions that can develop and maybe life-threatening are
Anaemia
Lariam can cause a decrease in red blood cells to count. If the symptoms of low blood count like shortness of breath, feeling tired or pale skin appears than contact your health service provider.
Dizziness
In some patients' dizziness and loss of, balance can occur after the use of Lariam. If you are suffering from any such problem, then do not perform the tasks that require alertness like driving or operating machinery until you feel fit to do so.
Heart Problems
If you suffer from any kind of palpitation or irregular heartbeat, contact the medical help as soon as possible to avoid any threatening situations.
Dose adjustment in some cases
The dose of Lariam has to adjust in patients who are suffering from kidney or liver disorders. In such patients, the blood levels of the drug can raise than usual and need a reduction or adjustment in the standard dose. Patients having kidney and liver disorders should not take medicine without consulting a doctor or pharmacist.
Mental Problems
Some psychiatric and nerve problems can occur in some persons taking Lariam. In some cases, these effects sustain for 6 months, 1 year or sometimes remain permanently after the treatment with Lariam. Immediately consult the doctor if you are experiencing any of these issues.
Epilepsy
Lariam can increase the chances of seizure attacks in persons having a history of epilepsy. These patients should not use Larium to protect malaria and only use it for treatment when benefits are more than risks.
Can I take Lariam with other medicines?
It is essential to talk to your doctor or pharmacist about any other medication that you are taking before starting Lariam. Particular medicines can have a drug interaction when taken in combination with Lariam. Similarly, it is equally important to check the drug interaction between Lariam and to start any new medicine.
Antiarrhythmics (drugs used in the treatment of irregular heartbeat)
Antihistamines (cetirizine, loratadine, diphenhydramine etc.)
Alcohol
Antidepressants (citalopram, escitalopram, clomipramine)
Other antimalarials
Antipsychotics (thioridazine, haloperidol, amisulpride)
Moxifloxacin
Pentamidine
Atomoxetine
Beta-blockers such as atenolol
Calcium channel blockers
Crizotinib
Digoxin
Antipsychotic drugs like chlorpromazine
Antifungals
Antibiotics
It is better to seek advice from the doctor for safe use of medicines and all possible interactions of the Lariam.
Side Effects
What are the side effects of Lariam?
Medicines usually have side effects even when taken in proper doses. Side effects are mild or severe, temporary or permanent. The nature and frequency of side effects also vary from patient to patient.
Following side effects are reported in less than I% of people taking Lariam and usually goes away with time. Consult your doctor if the side effects persist for a longer duration.
Dizziness
Fatigue
Headache
Abdominal pain
Loss of appetite
Nausea
Spinning feeling
Insomnia
Disturbed balance
Vomiting
Few other side effects are also associated with Lariam, but they do not occur very often in patients. But if you feel any discomfort from these side effects than contact your doctor as soon as possible.
Fever
Chills
Irregular heartbeat
Muscle pain
Tingling sensations
Numbness and loss of pain sensations
Loss of balance and coordination
Restlessness
Ringing in the ears or Tinnitus
Severe headache
Mood swings
Depression or anxiety
Usual tiredness
General weakness
Liver disorders
Lung inflammation
Immediately stop taking Lariam tablets if any of below-mentioned problems occur and seek for medical help.
Seizures or tremors or convulsions
Symptoms of any severe allergy such as nausea, vomiting, difficult breathing, swelling in body parts
Severe skin reactions such as rashes, blistering, body rashes along with fever and discomfort, peeling
Negative or self-harming thoughts
Chest pains
Fluid retention (oedema)
Product Reviews For Lariam Tablets
Lariam PRICES
*Please note: We do NOT charge a prescription fee
| Medicine | x8 Tablets (1 Week) | x9 Tablets (2 Weeks) | x10 Tablets (3 Weeks) | x11 Tablets (4 Weeks) | x12 Tablets (5 Weeks) | x13 Tablets (6 Weeks) | x15 Tablets (8 Weeks) | x19 Tablets (12 Weeks) |
| --- | --- | --- | --- | --- | --- | --- | --- | --- |
| Lariam 250mg Tablets (1 Week) | 24.99 | | | | | | | |
| Lariam 250mg Tablets (2 Weeks) | | 26.99 | | | | | | |
| Lariam 250mg Tablets (3 Weeks) | | | 27.99 | | | | | |
| Lariam 250mg Tablets (4 Weeks) | | | | 29.99 | | | | |
| Lariam 250mg Tablets (5 Weeks) | | | | | 31.99 | | | |
| Lariam 250mg Tablets (6 Weeks) | | | | | | 33.99 | | |
| Lariam 250mg Tablets (8 Weeks) | | | | | | | 38.49 | |
| Lariam 250mg Tablets (12 Weeks) | | | | | | | | 47.99 |