Omeprazole

Omeprazole is an acid reflux treatment, which works to treat symptoms such as heartburn or an unpleasant sour taste in your mouth. It belongs to the class of medication called proton pump inhibitors. Omeprazole works by preventing the secretion of acid in the stomach. The recommended dose is one capsule daily.
Next Day Delivery
Plain & Discreet Packaging
Confidential Service
UK registered service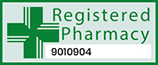 ABOUT Omeprazole
What is Omeprazole?
Omeprazole is a medication belonging to the "proton pump inhibitor" class. It is typically used to treat symptoms of GORD, also known as gastro-oesophageal reflux disease. This is when stomach acid travels up into the tube that connects the throat to the stomach, giving a burning sensation. It can also leave an unpleasant taste in the back of the throat, which can burn. Omeprazole is available to purchase over the counter at a lower dose of 10mg. If you want to buy omeprazole 20mg, you will need a prescription. This can be obtained from your doctor, or after completing an online medical consultation. Providing it is clinically suitable, a prescription is issued, and your medication is dispensed from our pharmacy. Your medication is then dispatched using a next day delivery service.
How does Omeprazole work?
Proton pumps located inside the stomach produce gastric acid in order to help digest food. Excess stomach acid produced can cause unpleasant side-effects for many people, and omeprazole works by reducing the amount of acid secreted by the proton pumps. This helps to relieve the effects of too much stomach acid, such as heartburn. Omeprazole also enables the food pipe to recover if it has been damaged by acid that has forced its way up into the throat.
How do you take Omeprazole?
You should take omeprazole once daily in the morning, around 30 minutes before your breakfast. Swallow one capsule whole with a full glass of water.
What if I am taking other medication?
Omeprazole should not be taken with any of the following medication:
Certain antiviral medication to treat HIV or hepatitis C such as atazanavir, ledipasvir, rilpivirine, saquinavir, sofosbuvir, tipranavir, velpatasvir or voxilaprevir
Certain anticancer medication such as ceritinib, dasatinib, erlotinib, gefitinib or pazopanib
Certain heart medication such as clopidogrel, dipyridamole or digoxin
Certain antiepileptics such as clobazam or phenytoin
Certain antidepressants such as citalopram or escitalopram
Certain antifungals such as itraconazole, ketoconazole, posaconazole or voriconazole
Cilostazol
Methotrexate

If you are taking any of these medications, you should consult your doctor before taking omeprazole.
If you taking an antacid such as Gaviscon, Tums or Milk of Magnesia for indigestion or heartburn, you should leave a 2 hour gap in between both doses for each medication
Who should not use Omeprazole?
Omeprazole can increase the risk of fractures in those with a risk of osteoporosis. It should also be avoided in those with direct exposure to sunlight, as it can cause lesions to form on the skin. We are unable to prescribe omeprazole for those that have:
Gastric cancer
Increased levels of magnesium in the blood
Liver problems
History of developing gastric ulcers
When should I see a doctor?
We are unable to prescribe omeprazole if any of the following apply to you:
Repeated symptoms of acid reflux for 3 weeks or more
Unexplained weight loss
Difficulty or pain on swallowing
Blood or black coloured stools
Abdominal swelling
Persistent pain
Vomiting or Diarrhoea
Anaemia
Those aged 55 or over with new or worsening symptoms

It may not necessarily be anything to worry about, but in these scenarios, it is best to be physically assessed by a doctor, who can rule out anything that could be hazardous to your health. If there is an underlying health issue that is causing acid reflux, omeprazole will only mask the symptoms, and not cure the problem.
Can I use Omeprazole if I am pregnant or breastfeeding?
Omeprazole can be used safely in pregnancy, and only traces of omeprazole have been found in breastmilk, in quantities that are not known to be harmful to the baby. However, you should only take omeprazole under the supervision of a doctor if you are pregnant or breastfeeding.
Why can I only buy one month's worth of Omeprazole?
Taking omeprazole for a prolonged period of time can have an implication on other aspects of your health. Taking omeprazole for longer than a 3-month period can cause magnesium levels in your body to drop. This can cause you to feel low on energy, confused and light headed.
Taking omeprazole for longer than one year can also increase the chances of getting a bone fracture or developing a gut infection. It can also cause vitamin B levels to fall.
It is important to have a regular check-up with your doctor if you take omeprazole over a long period of time. If you wish to purchase more than a one month's supply, our pharmacist may need to contact you to verify the status of your health.
Does Omeprazole make the contraceptive pill less effective?
There are no interactions between omeprazole and any form of regular contraceptives. Omeprazole may make ellaOne (ulipristal), a form of emergency contraception, less effective. If you are taking omeprazole and wish to use the morning after pill, you should consider an alternative.
Is it safe to consume alcohol with Omeprazole ?
Alcohol has no direct impact on omeprazole, but drinking alcohol can cause your stomach to secrete more acid than normal. If you are suffering from acid reflux, it is recommended to avoid consuming alcohol, as it can make symptoms worse.
Side Effects
What are the side-effects of omeprazole?
Side-effects of omeprazole are relatively uncommon and most people do not experience them. However, as with all medication, side-effects are still possible.
Up to 10% of people experience:
Headache
Abdominal disturbances including stomach pain, diarrhoea, constipation and wind
Nausea or vomiting
If you experience any of the following, please seek medical attention from a doctor as soon as possible. They are signs of an allergic reaction.
Difficulty breathing or swallowing, swelling of the mouth, rash
Blistering anywhere on the body
Skin turning yellow including your eyes
Patient Information Leaflet
For more information about Omeprazole acid reflux treatment, take a look at the patient information leaflet below:
Where can I find out more information about Ompeprazole?
To find out more information about Omeprazole, visit the NHS website.
Product Reviews For Omeprazole
Omeprazole PRICES
*Please note: We do NOT charge a prescription fee
| Medicine | x7 Capsules | x14 Capsules | x28 Capsules |
| --- | --- | --- | --- |
| Omeprazole 20mg Capsules | 6.99 | 9.99 | 16.49 |