Rizatriptan Tablets

Rizatriptan is a migraine treatement which helps to alleviate symptoms associated with migraines. It works by narrowing blood vessels in the brain, preventing pain signals. It is also thought to block the release of chemicals that cause migraine symptoms.
Next Day Delivery
Plain & Discreet Packaging
Confidential Service
UK registered service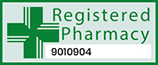 ABOUT Rizatriptan Tablets
What is rizatriptan?
Rizatriptan is an effective migraine treatment used to relieve symptoms of migraines.
This medication belongs to a group of medicines called triptans, and is also sold under the brand name Maxalt. It works by narrowing blood vessels in the brain, preventing pain signals. It is also thought to block the release of chemicals that cause migraine symptoms.
How does rizatriptan work?
Rizatriptan is a selective serotonin receptor agonist. This class of medications works by decreasing the swelling of blood vessels in the brain that is caused by a migraine, stopping pain signals being sent to the brain, and preventing the release of natural chemicals that cause pain and other migraine symptoms.
What is rizatriptan used for?
Rizatriptan 10mg tablets are used specifically for migraine headaches, and should not be used as a general pain medication. It is typically recommended when over the counter pain medication such as aspirin has proven ineffective.
As well as headache pain from migraines, rizatriptan can also help to relieve other migraine symptoms, such as:
Nausea
Vomiting
Light sensitivity
Sound sensitivity
Using rizatriptan promptly at the onset of symptoms can prevent migraines from interfering in your daily life. It may also decrease your reliance on other pain medications.
How to take rizatriptan
Rizatriptan tablets are taken orally, with or without food, when migraine signs first occur.
The medication should not be taken until the headache starts in the aura stage, as it can be less effective.
Rizatriptan may work faster if you take the tablets on an empty stomach. You should never crush, chew or cut rizatriptan tablets. Rizatriptan tablets are also available in orodispersible form, meaning that they will dissolve in the mouth with no water needed for swallowing.
Always read the information leaflet before you start taking rizatriptan and if you have any questions, ask your pharmacist or doctor.
Rizatriptan dosage instructions
The dose for rizatriptan is 10mg to be taken at the start of a migraine. Another 10mg can be taken after 2 hours, only if the migraine recurs. You should not take a second tablet for the same attack, if the first dose did not work.
You will need to tell your doctor about any other medication you are using, including prescription drugs, over the counter drugs and herbal supplements.
Rizatriptan tablets can be bought as a 10mg tablet. For adults, a maximum dose of 20 mg (two 10 mg tablets) is recommended over a 24-hour period.
A specialist doctor may occasionally prescribe rizatriptan for older children, although it has not yet been given official approval for children. The dosage for children is usually based on body weight. If a doctor has advised that a child can take rizatriptan, they should take no more than 5mg in a 24 hour period.
No specific problems have been highlighted by studies done to assess the effectiveness of rizatriptan for elderly people. However, if you are over the age of 65, you are more likely to have heart problems and high blood pressure, which might necessitate an adjustment in dose, or mean that rizatriptan is unsuitable for you.
How long does rizatriptan take to work?
Rizatriptan should take no longer than 30 minutes to work. If your migraine returns after taking rizatriptan, you should wait two hours or more before you take another tablet.
Contact your doctor before taking more than the recommended 20mg dosage if you continue to experience migraine symptoms.
Rizatriptan and alcohol
While alcohol does not stop rizatriptan from working, it is not recommended to mix the two. If you are suffering from a migraine, alcohol can make symptoms worse, and intensify side effects like nausea, dizziness and drowsiness.
Is rizatriptan safe during pregnancy and breastfeeding?
The use of rizatriptan and other drugs in the triptan group has been analysed by pregnancy registries. They found no significant congenital defects. Nevertheless, if there are other medical problems related to a pregnancy, specialist advice could be required.
Mothers should note that because rizatriptan levels in breastmilk are low, the amounts that are ingested by infants is small. There are no studies that determine a significant infant risk when breastfeeding while using the medication, but it is advised to try and avoid taking any medication whilst you are breastfeeding.
Rizatriptan vs sumatriptan
Like rizatriptan, sumatriptan tablets are a highly effective migraine treatment. It is also sold under the brand name Imigran in the UK.
Sumatriptan tablets are available to purchase through our online pharmacy in two different doses, 50mg and 100mg.
Rizatriptan and sumatriptan both belong to the serotonin-1 receptor agonist group of drugs, and work similarly; stimulating the brain's serotonin receptors and reversing the widening of the blood vessels that causes a migraine, thereby alleviating pain.
Sumatriptan typically takes longer to work than rizatriptan. While rizatriptan is usually effective in no longer than 30 minutes, sumatriptan can take an hour to provide relief from symptoms of a migraine. The results of sumatriptan peak after two to four hours.
Another difference is that dosage amounts are different – if you are taking rizatriptan, you would normally take one 10mg tablet, as opposed to 50mg or 100mg of sumatriptan. Both medications have been proven to be as effective as the other, significantly reducing painful symptoms in around 80 percent of patients.
They are available at a comparable price and share potential side effects such as mild nausea, dry mouth, drowsiness and a mild headache.
To find out more about sumatriptan, visit our sumatriptan tablets reviews page or have a read of our in-depth sumatriptan guide.
Rizatriptan vs maxalt
There is no clinical difference between rizatriptan and maxalt. Maxalt contains rizatriptan benzoate; the same active ingredient as rizatriptan. Maxalt is the branded version of rizatriptan in the UK, therefore they both work in the same way to efficiently relieve migraine symptoms.
To find out what our customers are saying about maxalt, please take a look at our maxalt tablets reviews page.
Can I buy rizatriptan over the counter?
You cannot buy rizatriptan over the counter In the UK, you can only buy rizatriptan with a prescription.
Our online service allows you to buy rizatriptan online. Before our clinicians can prescribe this, you will need to fill out a short online questionnaire, which will determine your suitability for this product. Following approval, we will dispatch your treatment quickly with all orders made before 3pm eligible for next day delivery.
Rizatriptan might not be a suitable medication if:
You have had an allergic reaction to medication previously
You have a heart condition
You have high blood pressure
You have problems with blood circulation
You have had seizures
You have had liver disease
Patient Information Leaflet
For more information about Rizatriptan migraine treatment, take a look at the patient information leaflet below:
Where can I find out more information about Rizatriptan?
To find out more information about Rizatriptan, visit the NHS website.
Articles you may be interested in:
Side Effects
As with all medication, side effects can occur in people that take rizatriptan. However, not everybody experiences them. Common side effects of rizatriptan include:
Dizziness
Drowsiness
Diarrhoea
Headache
Dry mouth
Stomach pain
Pain in the hands or feet
Numbness or tingling in the hands or feet
These side effects do not typically require medical attention. However, if they persist or are bothering you, you should tell your doctor.
Serious side effects that are listed below are very rare, but they can occur. Therefore you should seek medical assistance straight away. Potential serious side effects from rizatriptan include:
Allergic reactions such as:
Itching
Hives
Face swelling
Lips swelling
Tongue swelling
A skin rash
Signs that your heart rhythm or heartbeat could have changed dangerously, such as:
An irregular or fast heartbeat
Palpitations
Feeling lightheaded
Breathing difficulty
Dizziness and chest pain
Signs of serotonin syndrome, such as:
Being irritable
Confused
Muscles twitching
Stiff muscles
Irregular or fast heartbeat
Diarrhoea
Fever, and seizure
Or signs of a stroke, such as:
Difficulty speaking
Confusion
Vision changes
Weakness
Numbness in the arm, leg or face
Severe headaches
Loss of coordination
Trouble walking
Again, although the side effects listed are rare, if you experience any of the above you should seek medical attention immediately.
Product Reviews For Rizatriptan Tablets
The general consensus is that rizatriptan is a reliable form of migraine treatment that effectively relieves users of their migraine symptoms. Many users have reported that rizatriptan completely relieves their migraines in just 30 minutes.
Others say that they used rizatriptan as an alternative when over-the-counter pain medication hadn't worked. And some users have noted that rizatriptan was the first medication that was successful in treating their migraines.
While moderate side effects were experienced by some users the day after taking rizatriptan, several were not sure if this was the effect of the medication or the migraine itself.
To get a first-hand look at what our customers have said about rizatriptan, visit our rizatriptan tablets reviews page.
Rizatriptan PRICES
*Please note: We do NOT charge a prescription fee
| Medicine | x3 Tablets | x6 Tablets | x9 Tablets | x12 Tablets |
| --- | --- | --- | --- | --- |
| Rizatriptan 10mg Orodispersible Tablets | 16.99 | 26.99 | 42.99 | 52.99 |
| Rizatriptan 10mg Tablet Tablets | 11.49 | 16.99 | 26.99 | 32.99 |