Sumatriptan Tablets

Sumatriptan is a migraine treatment, alleviating associated symptoms. It works by narrowing blood vessels in the head, preventing pain signals from being sent to the brain. Sumatriptan 50mg & 100mg are available to buy online from Chemist Click.
Next Day Delivery
Plain & Discreet Packaging
Confidential Service
UK registered service
Chemist Click
Award Winner
Online Pharmacy of the Year
Chemist Click
Award Winner
Most Trusted Online Pharmacy
Chemist Click
Award Winner
Online Pharmacy of the Year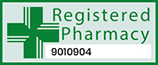 Sumatriptan PRICES
*Please note: We do NOT charge a prescription fee
| Medicine | x6 Tablets | x12 Tablets | x18 Tablets |
| --- | --- | --- | --- |
| Sumatriptan 50mg Tablets | 9.79 | 15.49 | 23.29 |
| Sumatriptan 100mg Tablets | 10.89 | 19.75 | 29.49 |
ABOUT Sumatriptan Tablets
Buy sumatriptan online
You can buy sumatriptan online from our UK registered pharmacy. You will be required to answer a few questions about your health, to ensure that treatment is suitable for you.
What is sumatriptan?
Sumatriptan is a medication used for the treatment of migraines. It contains the active ingredient, sumatriptan succinate. It is the generic, non-branded version of Imigran, belonging to a class of medication called 5HT (Serotonin) receptor agonists. Sumatriptan tablets are also referred to as "triptans".
How does sumatriptan work?
Sumatriptan's mechanism of action is not fully quite understood. During a migraine, it is thought that widening blood vessels send signals to the brain, which release substances that cause pain, nausea, and other migraine symptoms. ​Sumatriptan tablets work by acting on Serotonin (5HT) receptors in the brain, causing the blood vessels to narrow. This prevents signals from being sent, stopping migraines. Sumatriptan has also been shown to decrease the activity of the trigeminal nerve, which is responsible for carrying pain impulses from your head to your central nervous system (a bodily structure that is responsible for registering sensations such as pain).
Sumatriptan dosage
The dose of sumatriptan for migraines is 50mg or 100mg to be taken at the onset of a migraine. You can take another tablet after 2 hours if the migraine returns.

Sumatriptan 50mg tablets
Sumatriptan 50mg is the recommended starting dose. If this strength works for you, there is no need to take the 100mg strength.
Sumatriptan 100mg tablets
Sumatriptan 100mg is the dose that is used when the 50mg tablets have provided limited relief.
The maximum dosage of sumatriptan is 300mg within a 24 hour period. You should not take more than this. An overdose can result in feeling weak or fainting, reduced heart rate, feeling sick, loss of bowel and bladder control, and fatigue. In more serious cases, taking too much sumatriptan can narrow blood vessels to a degree which causes heart problems including chest pain, an abnormal heart rhythm, and even a heart attack.
When to take sumatriptan tablets
Take one sumatriptan tablet at the onset of a migraine attack. The sooner you take a tablet, the higher the chances of successful treatment. If you get migraine with aura (warning sings before a migraine is about to happen), you should not take a tablet.
How long does sumatriptan take to work?
Sumatriptan tablets usually take around 30-60 minutes to work. Sumatriptan nasal spray is faster acting, taking around 15 minutes to work.
What to do if your migraine is not responding to sumatriptan tablets
If sumatriptan is not working after the first dose, you should not take another tablet if it is for the same migraine attack. If you get another migraine attack, you may take a dose of sumatriptan.
If after the first dose, symptoms improve, but then return, you are able to take a second dose, provided you wait 2 hours after your first.
How long does sumatriptan stay in your system?
Sumatriptan is short acting with a half-life of 2 hours. The drug should be out of your system completely within 10 hours.
What can you not take with sumatriptan?
There are certain drugs that you cannot take with sumatriptan tablets, due to possible interactions; for example, other migraine tablets belonging to the same class of drug, certain antidepressants known as MAOIs, bupropion, ergotamine, isocarboxazid, phenelzine, tapentadol, tranylcypromine, St John's Wort, and various other antidepressants. You should always let your doctor or pharmacist know if you are taking other medication, so that they can check for interactions with sumatriptan tablets.

Sumatriptan and ibuprofen
There are no listed interactions between sumatriptan and ibuprofen, and they are safe to take together.
Sumatriptan and paracetamol
There are no listed interaction between sumatriptan and paracetamol, and they are safe to take together.
Sumatriptan and sertraline
Taking sumatriptan tablets together with sertraline, increases the chances of a rare but serious side effect, known as serotonin syndrome. Signs of serotonin syndrome include agitation, restlessness, confusion, insomnia, increase in blood pressure and hear rate, loss of co-ordination, sweating, headaches, nausea, and vomiting. Sertraline belongs to a class of drugs known as SSRIs. Other drugs belonging to this class include citalopram, fluoxetine, and paroxetine. You should check with your doctor or pharmacist to ensure that it is safe for you to use sumatriptan.
Sumatriptan and amitriptyline
There is a risk of serotonin syndrome when sumatriptan is taken together with amitriptyline.
Sumatriptan and propranolol
There is no listed interaction in the BNF between sumatriptan and propranolol. Used as a preventative therapy for migraines, propranolol is thought to slow the rate at which sumatriptan leaves the body, which can increase the risk of side effects. Your doctor or pharmacist will be able to inform you whether you can take the two together.
Sumatriptan and alcohol
Whilst alcohol does not have a direct impact on sumatriptan, you should avoid alcohol if you are experiencing a migraine. It can exacerbate symptoms of a migraine attack.
Why is sumatriptan restricted?
The supply of sumatriptan is limited to avoid the risk of patients taking too much, which can cause serious side effects. Furthermore, taking tablets on a frequent basis can cause medicine overuse headaches.
How many times in a week can you take sumatriptan tablets?
There is no set rule to say how many times in a week you can or cannot take sumatriptan for migraines. However, the general rule of thumb is that if you are using sumatriptan pills more than 2 times a week, this is too much, and you may be at risk of a medicines overuse headache. Whilst sumatriptan is not addictive, it should not be used daily. If you are needing to use sumatriptan daily, you should see your doctor.
Sumatriptan side effects
Like all medication, there may be side effects with sumatriptan. Not everyone will experience them. Common side effects of sumatriptan tablets include:
Lack of energy
Dizziness
Drowsiness
Feeling strange or not yourself
Shortness of breath
Flushing
Muscle ache
Nausea and vomiting
Skin reactions
Feeling hot or cold

It is unlikely that healthy adults will experience any long-term side effects from sumatriptan.
If you experience any of the following symptoms, you should call 999 or seek urgent medical attention:
You develop a skin rash
Wheezing
Tightness in the throat or chest
Trouble talking or breathing
Your face begins to swell (including your mouth, lips, tongue, or throat)

You should read the patient information leaflet for a full list of side effects.
Sumatriptan warnings
You should avoid taking sumatriptan if you have narrowing of the arteries (ischæmic heart disease), angina, history of a heart attack, circulation problems in your legs, history of stroke, uncontrolled high blood pressure, liver disease, history of brain hemorrhage or similar issues that affect your brain.
If you have certain risk factors or fall into the high-risk category, such as you are a smoker (or using nicotine replacement therapy), male over 40, woman who is going through or been through menopause, or you have any risk factors that predispose you to heart disease, you should let your doctor or pharmacist know. They can assess whether it is safe for you to take sumatriptan, by assessing whether the benefits, outweigh the risks involved. This is because sumatriptan can affect your heart, and certain conditions can increase the chances of complications.
Sumatriptan in pregnancy
Although not thought to be harmful, there is not enough information about the safety profile of taking sumatriptan while pregnant. If you are pregnant and wish to take sumatriptan, you should speak to your doctor.
Sumatriptan and breastfeeding
Sumatriptan is present in breastmilk, but the amount is thought to be too small to be harmful. You should speak to your doctor or pharmacist if you wish to take sumatriptan tablets whilst breastfeeding. If it is safe to do so, you should withhold breastfeeding for 12 hours after taking a tablet.
Can you buy sumatriptan over the counter?
You can buy sumatriptan tablets over the counter in most UK pharmacies. The dose of OTC sumatriptan is limited to 50mg. If you wish to purchase sumatriptan tablets online, you should check to ensure that the pharmacy you are ordering from is legitimate. Alternatively, sumatriptan is available on the NHS from your surgery. You will need to visit your GP if you wish to use sumatriptan injections.

You can find more information about sumatriptan on our blog.
Side Effects
What are the side-effects of sumatriptan?
As with all medication, sumatriptan may cause side-effects in some individuals, however not everybody experiences them.
Side-effects of sumatriptan may include:
heaviness,
warmth,
numbness/tingling,
pressure or tightness in certain parts of the body, including the chest or throat.

These symptoms generally pass quickly and do not last long. If these symptoms last for more than two hours, or appear to be very severe (especially chest pain), seek medical attention.
Patient Information Leaflet
For more information about Sumatriptan migraine treatment, take a look at the patient information leaflet below:
Where can I find out more information about Sumatriptan tablets?
To find out more information about Sumatriptan tablets, visit the NHS website.
Articles you may be interested in:
Product Reviews For Sumatriptan Tablets