Dianette

Dianette (also available as a generic medication called co-cyprindiol) is a prescription treatment for acne but can also be used as a contraceptive treatment in some cases. It contains the active ingredients cyproterone and ethinylestradiol.
Next Day Delivery
Plain & Discreet Packaging
Confidential Service
UK registered service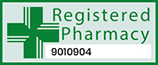 ABOUT Dianette
What is Dianette?
Dianette is a combined oral contraceptive, usually prescribed for those suffering with acne, who also need a contraceptive pill. You can buy Dianette online after completing a short medical questionnaire. These are similar to the questions your GP would ask you, to find out if it is medically suitable for you to be prescribed the combined oral contraceptive pill.
Product Reviews For Dianette
Dianette PRICES
*Please note: We do NOT charge a prescription fee
| Medicine | x3 x 21 Tablets (3 Month Course) |
| --- | --- |
| Dianette 35mcg/2mg x 21 Tablets (3 Month Course) | 19.99 |