Aciclovir Tablets Review: What Our Customers Are Saying
Customer reviews can often provide a useful insight on what to expect when taking medication, especially for the first time. This article explores aciclovir reviews and provides an insight into what patients thought.
What is aciclovir and what is it used for?
Aciclovir is an antiviral medicine used to treat infections from the herpes virus (herpes simplex). Whilst there is no cure for genital herpes, aciclovir is effective in managing the symptoms associated with genital herpes. It is also used to treat other viral infections, such as cold sores, shingles, and chickenpox.
Aciclovir tablets are available in three different strengths: 200mg, 400mg and 800mg. It is also available in cream and liquid form.
Taking aciclovir tablets can reduce the length and severity of outbreaks. While aciclovir doesn't cure these infections, it can help sores heal quicker and prevent new sores from developing. Aciclovir is also effective in reducing symptoms associated with genital herpes, such as pain and itching.
Aciclovir tablets usually take a few days to start working, when treating acute viral infections, including genital herpes, chickenpox and shingles. Treatment is most effective when taken at the start of an outbreak.
In the UK, you'll require a doctor's prescription to buy aciclovir. A full medical history including presenting symptoms will be taken. If it is safe to do so, a prescription will be issued, which you can take to your local pharmacy to have fulfilled.
At Chemist Click, you can complete an online consultation, which is assessed by a qualified clinician. If it is safe to do so, we will issue a prescription and dispense your medication from our inhouse pharmacy.
Alternatively, if you have a private prescription, you can, upload an aciclovir prescription online and your medication will be sent by express delivery once dispensed. All orders are sent in plain and discrete packaging.
To find out more about aciclovir, please visit our what is aciclovir page.
Aciclovir tablets review
In general, aciclovir has been given positive feedback for its effectiveness in treating genital herpes, shingles and chickenpox outbreaks. The medication has been praised by users for its ability to reduce the severity of outbreaks, in particular, when taken less than 72 hours after the onset of symptoms.
Users have reported that when taking aciclovir, not only did outbreaks from herpes clear up rapidly, but it also reduced their size and made them less painful.
The majority of consumers appear to be happy with the price of aciclovir tablets when the efficacy of the medication is considered.
Among the recurring comments on aciclovir are that the medication:
Works consistently
Speeds up the recovery process
Can boost confidence
Can clear up sores in around five days
Can significantly reduce the pain associated with sores
Reducing the recurrence of outbreaks, when taken as a suppression therapy
In terms of side effects, most users did not notice any. However, side effects do occur and can affect a small number of users.
Tiredness is a commonly reported side effect, and users have warned that they needed to be careful when they were drinking alcohol while taking aciclovir. Although alcohol does not interfere with aciclovir, if you are experiencing side effects, it is best not to drink too much. Nausea, headaches and dizziness are other side effects which some users have mentioned.
Aciclovir vs Valaciclovir
Aciclovir and valaciclovir have several similarities. When valaciclovir enters the body, it is converted to aciclovir. They are both antiviral drugs, and they are both effective in the disruption of viral DNA replication. Both medications are treatments for the same viruses, namely; herpes, chickenpox and shingles.
The most significant difference between the two is the length of time they are effective for. Valaciclovir has a longer duration of action, meaning that you need a fewer number of doses every day. Valaciclovir tablets are usually taken twice per day, whereas aciclovir tablets are usually taken three to five times per day.
Aciclovir reviews – The verdict
Overall, aciclovir has been given positive reviews by users. Serious side effects are rare, and only around one in ten users will experience common side effects. And whilst some users may experience mild side effects, the pros appear to outweigh the cons.
Reviewers have demonstrated a clear appreciation for aciclovir as it has proven to be very effective at treating symptoms associated with herpes.
If you are concerned that you might have herpes or you are experiencing any symptoms of genital herpes, refrain from sexual activity and consider a herpes test kit.
To buy aciclovir tablets online, you need to complete consultation through our online pharmacy. Once you have completed a short online consultation and it has been approved by one of our medical professionals, we will send the medication to you in discreet packaging.
To learn more about other genital herpes medication, take a look at our 'Best Genital Herpes Treatment' guide. Other popular treatment options in the UK include valaciclovir tablets (also known by its branded name Valtrex), which may be more suited to your circumstances.
To learn more about genital herpes, take a look at our 'What Is Genital Herpes' guide, or our genital herpes FAQ's page for more information.
How it works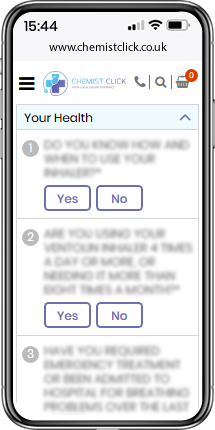 Complete
Questionnaire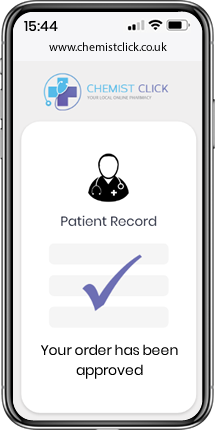 Suitability assessed by
UK based clinician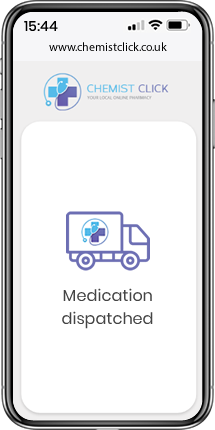 Next-day discreet
delivery
ABOUT OUR SERVICE
Chemist Click is an award-winning UK online pharmacy, offering a private prescription service. You can safely buy medication online, having it delivered to your door the next day in plain and discreet packaging. If you are using our online consultation service, you do not need a prescription. After you have completed the online questionnaire, a prescription is generated by our prescribers, which is then passed on to our in-house pharmacy. It is then dispensed and dispatched by our qualified pharmacy team. If you have a private prescription that you would like us to dispense, please contact our pharmacy team for a quote. We are a trusted UK online pharmacy with years of experience. Chemist Click is accredited by the MHRA and GPhC, ensuring that it is safe for you to buy medication online.
AS SEEN ON