Viagra Reviews: What Our Users Think
If you've been looking into erectile dysfunction (ED) treatment, you may be considering Viagra. It is one of the most widely-known prescription drugs for ED. Here you can read independent Viagra reviews by people who use the medication, to help decide if it's right for you.
First, here's a quick overview of what Viagra is and how long it takes to work.
What is Viagra?
Viagra is an effective treatment for erectile dysfunction. It is one of the most popular drugs in the world and has helped millions of men with ED. It is sometimes known by its generic name, sildenafil, and even referred to as "the blue pill", owing to its appearance.
It works by helping to relax the blood vessels in your penis. This allows blood to flow into your penis and cause an erection when you are sexually stimulated.
How long does Viagra take to work?
Viagra is a fast-acting medication that starts working within 60 minutes. It can be discreetly taken before you plan to have sex.
On average, Viagra lasts for around four to five hours. This can vary from man to man. You may notice that the effects begin to wear off after three to four hours.
Viagra contains the active ingredient sildenafil citrate. It blocks the action of an enzyme called PDE-5. This enzyme helps to regulate blood flow to your penis. So, by blocking it, Viagra allows blood to flow freely into your penis and cause an erection, firm enough for sexual intercourse.
Viagra reviews
You can read Viagra product reviews from Chemist Click customers. These reviews have been independently collected by Trustpilot and invitations are sent to all patients. When making a decision it's good to have the opinion of Viagra users who have experienced taking it. You can find out how real users find using Viagra and what to expect.
More independent Viagra reviews
Drugs.com, the largest and most widely visited independent medicine information website has lots of independent Viagra reviews.
Viagra 25mg reviews
Viagra 25mg is the lowest available dose of Viagra. This strength is usually used by people who have had side effects from the 50mg strength. If you are experiencing side effects such as headache, nausea and indigestion, speak to your doctor or pharmacist about lowering the dose. Here are just a few Viagra 25mg reviews from real users.
"Found that 25mg 30 minutes to an hour before sex was perfect. Took me back to when I was 20 years old, no more having to rush through before things "deflated". Was able to last as long as I wanted."
"I'm using the 25mg Pfizer tablets and they work amazingly well. No side effects. I now have very strong and rock-hard erections. I'm a much happier and relaxed man now."
"I took the first 25mg tablet and within 30 minutes I had a very hard erection it was such a relief to now know I am capable of having sex again"
Viagra 50mg reviews
Viagra 50mg is the recommended starting dose. Read some independent Viagra 50mg reviews.
"One hour after taking 50mg I get a beautiful erection, sensitivity is good, climax is wonderful."
"Was struggling to maintain an erection for 3 months, took 50mg of Viagra, worked in under an hour and it worked, despite the fact I was very anxious."
"I take a 50mg and like clockwork I am hard in 45 to 60 minutes. No worries about keeping the erection long enough to climax. I can't believe just how good this drug works."
Viagra 100mg reviews
Viagra 100mg is the highest dose that you can take. It should only be used if you have tried the 50mg strength on 8 separate occasions with limited success. Read these independent Viagra 100mg reviews.
"I had given up on ever getting fully hard in my early 50's but this stuff makes me feel like a teenager again. Took a 100 mg pill for the first-time last night and had great sex within an hour."
"After years of ED I was finally prescribed Viagra. 50mg was only partially effective so I went onto the 100mg tablets. The effect was amazing, 1 hour after taking the 1st tablet I had the hardest erection I'd had in years."
"When I first got 25 mg doses it didn't work for me. I then tried the 100mg dose and it worked. So, it's just the perfect dose. It varies from person to person and their medical conditions."
Erectile dysfunction products compared.
Viagra vs Sildenafil
Viagra and sildenafil are essentially the same drugs. Viagra is the brand name of the drug sildenafil. Both contain the active ingredient sildenafil citrate for the treatment of erectile dysfunction. Viagra is the original medication for ED that was invented and marketed by Pfizer. The drug is now sold under the generic name sildenafil by many manufacturers around the world. Sildenafil reviews are generally positive, and the results should be similar, if not identical to Viagra.
Viagra vs Cialis
Viagra and Cialis are oral medications used to treat erectile dysfunction. They are both phosphodiesterase-5 (PDE5) inhibitors. However, Cialis lasts much longer. Cialis can last for up to 36 hours whereas Viagra has a duration of up to 4 hours. Cialis can also be taken as a daily dose for a continuous effect when you are sexually stimulated. To see an in-depth comparison of both treatments, click here.
Cialis works within 20 to 30 minutes. Cialis is typically quicker to respond compared to Viagra which takes around 30 to 60 minutes.
Both Viagra and Cialis have similar side effects, but they may last longer with Cialis. However, Viagra has more common side effects that aren't as frequently encountered when taking Cialis.
Viagra and Cialis have similar success rates in clinical trials. They both are effective in over 80% of those that use them.
Similarly, to Viagra which can be bought under the generic name of sildenafil, Cialis is the brand name for the drug, with the active ingredient tadalafil, that can be purchased in generic form. Tadalafil reviews are also positive, with most men experiencing good results.
What is the price of Viagra?
The cost of Viagra will vary depending on where you but it from. Viagra prices may vary if you buy online or from your local pharmacy. The price will also depend on whether you buy branded Viagra or you choose the generic version, sildenafil tablets.
You can safely and discreetly buy Viagra online from our UK pharmacy. You simply need to complete an online medical consultation for our clinicians to assess. They will then issue a free of charge prescription, if appropriate. Your medication can then be dispensed.
At Chemist Click, you can treat your erectile dysfunction for as little as £5.89 for a 4-pack of Sildenafil 25mg tablets. The 4-pack branded Viagra 25mg tablets retail at £17.96. You can choose to buy your Viagra in a variety of tablet quantity packs. These range from a 4-pack to buying a pack of 64 tablets. The more tablets you buy in a packet the cheaper each individual tablet is.
Once you have purchased your Viagra tablets, they will be discreetly delivered to you.
Viagra results
Viagra is proven to be a highly effective treatment for erectile dysfunction. It works for 4 in 5 men.
Our Trustpilot Viagra reviews and other independent reviews from the large impartial medicine website, Drugs.com also advocate the effectiveness and safety of Viagra. The Viagra reviews illustrate users' pleasure with Viagra with 82% of reviewers* reporting a positive effect of using Viagra. It treats erectile dysfunction and allows for a fulfilling sex life in 80% of users.
Here is what our average customer thought of Viagra medication:
Effectiveness: The average user finds Viagra helps them to get and keep an erection when sexually stimulated.
Value: Whilst Viagra is expensive, the generic version, sildenafil, can be purchased at a much cheaper price.
Ease of purchase: Many men prefer the discretion of buying from an online pharmacy.
How it works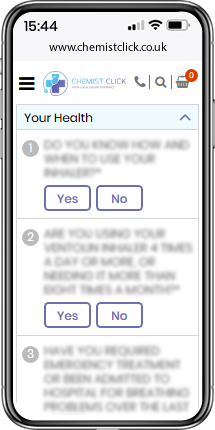 Complete
Questionnaire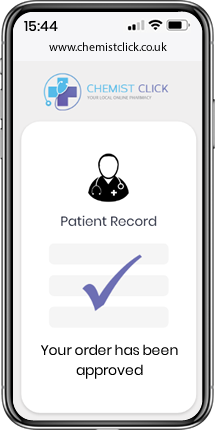 Suitability assessed by
UK based clinician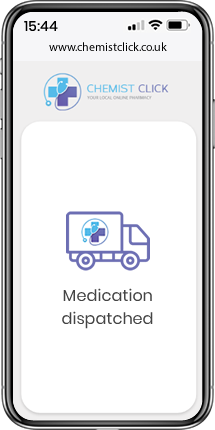 Next-day discreet
delivery
ABOUT OUR SERVICE
Chemist Click is an award-winning UK online pharmacy, offering a private prescription service. You can safely buy medication online, having it delivered to your door the next day in plain and discreet packaging. If you are using our online consultation service, you do not need a prescription. After you have completed the online questionnaire, a prescription is generated by our prescribers, which is then passed on to our in-house pharmacy. It is then dispensed and dispatched by our qualified pharmacy team. If you have a private prescription that you would like us to dispense, please contact our pharmacy team for a quote. We are a trusted UK online pharmacy with years of experience. Chemist Click is accredited by the MHRA and GPhC, ensuring that it is safe for you to buy medication online.
AS SEEN ON