What to do if Viagra is giving you a headache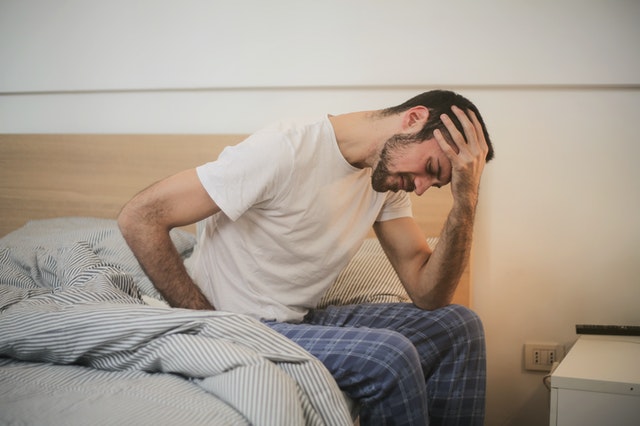 Getting hard doesn't have to be hard
No unwanted subscriptions. No fancy packaging. Delivered discretely. The next day.
Viagra is a popular medication used to treat erectile dysfunction (ED). It contains the active ingredient sildenafil, which is also available as a generic version. Both sildenafil and Viagra have no difference in the way they work, so the side effects will be the same. Whilst Viagra is safe to take for most men, side effects are a possibility, including headaches which affect around 25% of users. Other ED treatments, such as Cialis and Levitra, work in the same way and may cause similar side effects.
Viagra headaches usually only last for a few hours. There are techniques that can help you to avoid getting a headache after taking Viagra, which this article explores. If you do have a severe headache or a headache that won't go away, speak to a doctor or pharmacist.
Why ED medication causes headaches
ED medications including Cialis, Levitra and Viagra, work by widening blood vessels and improving blood flow to your penis.
However, these ED medications do not just affect the blood vessels in your penis. As a result, blood vessels and blood flow in other parts of the body are affected too. The sudden widening of blood vessels causes an increase in blood flow that can bring about headaches.
Most of these headaches are mild, however, Viagra can induce the onset of migraines in a small minority of users.
Headaches may be accompanied by other side effects including facial flushing and indigestion.
How long does a Viagra headache last?
A Viagra headache isn't usually serious. Mild Viagra headaches tend to go away after one to three hours. However, some headaches continue whilst the medication is still in your body, even when the effects of the medication have worn off. Once Viagra is out of your system, your headache should go away. It is unlikely that you will have a Viagra headache next day after taking it.
Some men find that their bodies get used to Viagra. As they continue to use it, their headaches become less frequent and less intense.
How to prevent a headache after taking Viagra, Cialis or Levitra
Getting a headache after taking an ED medication can be off-putting and impact sexual performance and pleasure. There are some measures you can take to reduce the intensity and duration of a headache when using Viagra or other ED drugs.

Use a Lower Dose of ED Medication
The higher your ED medication dosage is, the more likely you are to get a headache from it. So, if you are experiencing headaches and you use a high dose of ED medication, such as 100mg of Viagra, 20mg of Cialis or 20mg of Levitra, then you might want to consider a lower dose. Many men find that a 25mg or 50mg dose of Viagra works just as well.
The most suitable dosage of Viagra, Cialis or Levitra, is the lowest strength which helps you achieve and maintain an erection. If you think that you could benefit from a lower dosage of ED medication, talk to your doctor or pharmacist about this. It may reduce the intensity and frequency of headaches after taking Viagra.
 
Eat a small meal before taking Viagra, Cialis or Levitra
Whilst most ED medications are more effective when taken on an empty stomach, taking them without food might also increase your chances of getting a headache from the medication. Taking Viagra (sildenafil), Cialis (tadalafil) or Levitra (vardenafil) after a light meal, may help to reduce the intensity of headaches. With Viagra, take care to avoid high fat foods as these may delay its absorption into your bloodstream.
 
Stay hydrated
Dehydration is a common cause of headaches, which can be caused by ED medication.
Viagra is a mild diuretic. This means that it can cause your body to release excess water whilst it's active in your body and cause dehydration. Additionally, during sex you may perspire and expend moisture. So, if you take Viagra before sex, you can see how easy it is to experience mild dehydration. Avoid taking Viagra and alcohol at the same time, or within a short space of each other. Alcohol can increase the chances of experiencing certain side effects, mainly headaches.
You should drink plenty of water to reduce the severity of any headaches you experience after taking ED drugs, to reduce the likelihood of dehydration.
 
Consider switching ED medications
Whilst all ED medication like Viagra, Cialis or Levitra are grouped together as phosphodiesterase type 5 (PDE5) inhibitors, your tolerance of one may be different to another. Cialis, which contains the active ingredient tadalafil, is the longest-lasting ED medication. Its long half-life could increase the occurrence, severity or duration of your headaches compared to shorter-acting drugs such as Viagra. However, Cialis is also available as a daily dose option, which has a lower strength of tadalafil. This could reduce the chances of experiencing side effects, and in fact, many men prefer tadalafil over sildenafil for this reason. If you are experiencing headaches after using Cialis or Levitra, talk to your doctor about other ED options. You may be able to continue treating your ED with less headaches, using an alternative medication. 
How to get rid of a Viagra headache
Once a sildenafil headache has set in, there are a few treatment methods to follow.

Use Over-The-Counter (OTC) pain relievers
Often ED medication induced headaches disappear on their own after a few hours. If you have a persistent headache, you may wonder if you can take Viagra with paracetamol or ibuprofen. For most men, it is safe to take paracetamol or ibuprofen after taking Viagra. There is no interaction between the three. However, you should check with your doctor or pharmacist to ensure that this is safe for you. Also ensure you follow the dose recommendations of OTC pain relief.
 
Use a hot or cold compress
A hot or cold compress placed directly over the site of your headache may help calm the area and reduce the discomfort or length of your headache.
 
Keep the lights low
Try switching off any unnecessary lights, keeping the light dimmed and adjusting monitor brightness to a lower setting. Whilst these won't help with preventing the onset of a headache, they may help reduce the pain of the headache and help you to rest and relax.
 
Have a caffeinated drink (not too much!)
When your headache starts, a caffeinated drink such as tea or coffee may help to ease your headache pain and reduce its duration. Caffeine is also a diuretic so it may be an idea to drink water after, to ensure you do not get dehydrated.
ED medication and headaches: The Verdict
If you are taking Viagra for the first time, you should speak to your doctor or pharmacist about starting with a lower dose (50mg), to reduce the chances of experiencing side effects. Many men find that the starting dose, or the over the counter dose is sufficient. If you are experiencing headaches with the 50mg strength, you should speak to your doctor or pharmacist about reducing the strength to 25mg.
If you get headaches after taking Viagra, you could consider changing your dose or switching to another ED drug, eating a small meal beforehand and staying hydrated. These measures could stop your headaches or reduce their severity or frequency.
Viagra headaches can be cured by OTC pain relief, such as Ibuprofen and Paracetamol (provided you have checked with your doctor first), hot or cold compresses, relaxing in a low-lit room or drinking caffeine to alleviate your headache and any discomfort.
Although headaches can be a side effect, Viagra is a safe ED medication if taken correctly. Not everyone who takes Viagra gets headaches and headaches may not happen every time Viagra is taken. Viagra headaches are often mild and for most men, they are tolerable, and the pros of enjoying a fulfilling sex life usually outweigh the cons of a mild headache. To gain an insight into how users rate sildenafil, visit our sildenafil reviews section.
Whilst all of our content is written and reviewed by healthcare professionals, it is not intended to be substituted for or used as medical advice. If you have any questions or concerns about your health, please speak to your doctor.