Next Day Delivery
Plain & Discreet Packaging
Confidential Service
UK registered service
Finasteride Tablets
Finasteride is a hair loss treatment for men, which is used to stimulate hair growth and reduce hair loss. Finasteride is clinically proven to treat male pattern baldness in 90% of men. It is the non-branded version of Propecia and the dose is one tablet daily.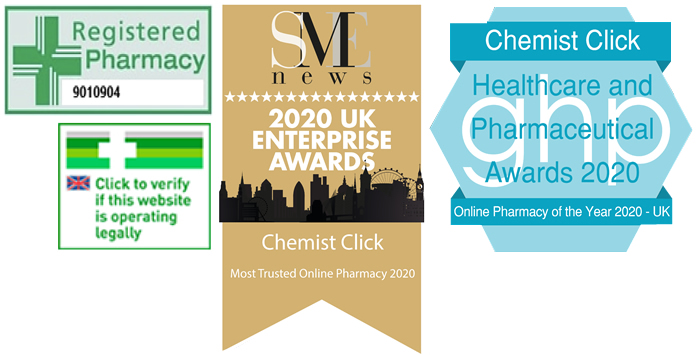 ABOUT Finasteride Tablets
What is finasteride?
Finasteride 1mg is a prescription-only drug which is taken every day to treat male pattern baldness. It contains the same ingredient as Propecia and is commonly known as "generic Propecia".
How does finasteride work?
Finasteride works by lowering the levels of a hormone called dihydrotestosterone (DHT), which is responsible for shrinking hair follicles.
The enzyme 5α-Reductase converts testosterone to DHT and finasteride 1mg blocks this conversion, resulting in less DHT. A reduction in DHT allows hair to regrow from hair follicles that were unable to produce hair and reduces the rate at which hair falls out. This results in a fuller and thicker set of hair.
How do I take finasteride tablets?
Take one tablet daily, with or without food. It does not matter what time of day you take finasteride, but you should remember to take it every day. Swallow the tablet whole without crushing or breaking the tablet.
Important note: Pregnant women should not handle finasteride, as skin can absorb it causing birth defects. You should use a condom if you are taking finasteride as traces of the drug may be found in semen.
What is the difference between Propecia and finasteride tablets?
There is no difference in clinical effectiveness between Propecia and finasteride. Propecia is the branded version and finasteride is the unbranded version. One is not better than the other, as they both contain finasteride 1mg and are medically the same. Any differences between the two will be in the inactive ingredients, such as the components that bind tablets together. Finasteride is often referred to as "generic Propecia".
Why is finasteride cheaper than Propecia?
The pharmaceutical company Merck are responsible for developing and launching Propecia. A significant amount of money was invested by Merck into product development and marketing, which is reflected in the price. Merck held a license known as a patent, allowing them to be the sole manufacturer of finasteride 1mg. Once this expired in 2014, it gave other pharmaceutical companies the opportunity to produce finasteride at a cheaper price (as the marketing and product development had already been carried out by Merck). These companies can set a lower price and competition in the market between pharmaceutical manufacturers helps to keep the price competitive.
What happens if I miss a dose of finasteride?
If you miss a dose of finasteride, take a tablet as soon as you remember. If it is close to the time of your next dose, do not take the missed dose. Continue to take your tablets every day as normal. Do not take more than one finasteride tablet daily. It is unlikely that missing a dose occasionally will have a negative impact on the outcome of treatment. However, finasteride does not stay in your system for long and several missed doses can slowly begin to cause a rise in the level of DHT (the hormone dihydrotestosterone that shrinks hair follicles). This can reverse any positive results you have seen.
Tip: You can set a reminder on your phone to help you remember to take your tablets every day.
How long should I take finasteride for?
You should take finasteride continuously for as long as you wish to see results. Stopping finasteride will reverse any positive results gained from treatment. Any new hair that has re-grown will fall off and you will continue to bald at the same rate as you did before treatment.
Important note: Finasteride has a short half-life and most of the drug will be out of your system within seven days. For finasteride to work long term, you should take a tablet daily without discontinuing treatment.
How long does it take for finasteride tablets to work?
Finasteride starts working on the scalp almost immediately, but it can take 3-4 months before you notice any results. Treating hair loss is a slow progress that requires persistence and patience.
1-3 months
It is unlikely that you will notice any positive changes to your hair after taking finasteride for 1-3 months. Finasteride is already working to lower the levels of DHT and starting to work on hair follicles. You may notice "hair shedding", where you start to lose hair at a faster rate than you did before starting finasteride. This is because finasteride causes weaker hairs to fall out mid-cycle and regrow stronger and thicker. It is a good sign that treatment is working.
3-6 months
You should start to see a decline in hair loss. Some men start to notice regrowth of hair during this time.
6-9 months
You should notice a positive change in the appearance of your hair. Most men experience a halt in hair loss, with many men also experiencing hair regrowth. Finasteride can also work to improve receding hairlines in some men. This is usually noticeable around the 6-9 month period.
9-12 months
After 1 year of taking finasteride, you should see a noticeable reduction in hair loss, and in many cases, an overall improvement in hair growth. Hair often appears thicker and fuller after one year and you should continue to take treatment if you are not experiencing any side effects. Finasteride does not lose its effectiveness as it simply reduces the level of DHT, the hormone responsible for shrinking hair follicles. Your body is not able to develop resistance to finasteride and the effects will only wear off if you stop treatment.
If you do not notice any positive results after one year of use, you should stop taking finasteride and speak to your doctor or pharmacist about possible alternatives.
It is important to note that not all men experience hair growth using finasteride. In these cases, finasteride may work to prevent further hair loss. Stopping treatment can cause positive results to disappear and you will resume the natural balding process.
Does finasteride work?
A 5-year study looking at the effects of finasteride found it to be successful in 90% of men. 42% of subjects experienced a halt in balding, whist 48% experienced hair regrowth, proving finasteride to have a success rate of 90%.
Another 2-year study looking at the effectiveness of finasteride in 1553 men suffering with male pattern baldness, showed that over 83% of men were able to maintain or increase the number of hairs from the baseline.
Finasteride does work and many men use it effectively to treat male pattern baldness. Science backs this up, however, there are circumstance where it may not work. For example, if you have alopecia, or your hair loss is caused by medication you are taking or treatment you are undergoing, such as chemotherapy.
A good idea to track your progress is to take pictures at regular intervals. This allows you to see the results before and after taking finasteride.
Tip: Using finasteride and minoxidil together is effective and increases the chances of success in treating hair loss for men.
What are the side effects?
Finasteride side effects can include difficulty getting an erection, loss of sexual desire and poor semen production. Side effects are not common and usually reversible as finasteride only stays in your system for around 7 days. The NHS have reviewed research about the sexual side effects and conclude that sexual side effects resolve in nearly all cases once the drug is stopped. There have been rare reports of depression and suicidal thoughts.
Not everyone experiences side effects and finasteride is generally considered to be safe to use long term.
Important note: You should always read the patient information leaflet and report any side effects to your doctor or pharmacist.
Is finasteride safe to take?
Finasteride is generally a safe and well-tolerated drug. Clinical studies examining men taking finasteride 1mg concluded that side effects were uncommon, and most men experienced no side effects. A clinical study was done over a one-year period in over 3,000 men, found that only 1.7% of men discontinued treatment as a result of side effects, compared to 2.1% of men who discontinued taking a placebo pill as a result of side effects. It was reported that 1.8% of men reported a decrease in sex drive, compared to the 1.3% who were taking the placebo pill. 1.3% of men taking finasteride reported difficulties in achieving an erection, compared to the 0.7% who reported this effect that were taking the placebo. 0.8% of subjects taking finasteride reported a reduced volume of semen produced compared to the 0.4% who experienced this that were taking the placebo.
After the fifth year of treatment, the number of patients reporting the above side effects fell to below 0.3%. This indicates that if you are one of the few individuals that is experiencing side-effects, they are likely to disappear after continued use of finasteride. It is important to note that side-effects are reversible and resolve once finasteride has been stopped.
Who should not take finasteride?
You should not take finasteride 1mg tablets if:
You are under the age of 18
You have an allergy to tablets or any of the ingredients in the tablet
You have a kidney, bladder or liver problem
You and your partner ore trying for a baby or your partner is pregnant
Important note: You should always check with your doctor or pharmacist to see if it is safe for you to take finasteride 1mg tablets.
Can I buy finasteride online?
Finasteride is available to buy online from our registered pharmacy. Unlike the branded version Propecia, you can buy finasteride tablets online for a cheaper price. Before our clinicians can prescribe this, you will need to fill out a short online questionnaire, which will determine your suitability for this product.
Side Effects
What are the side-effects of finasteride?
Side-effects of finasteride are uncommon, however as with all medication, there is an unlikely possibility you may fall within the small percentage of those affected.
Uncommon side effects (Occurring in less than 1% of men)
​​Decreased sexual desire
Difficulty in achieving an erection
Decreased production of semen
Depressed mood
Side-effects reverse once finasteride has been stopped. Please read the patient information leaflet for a full list of side-effects
Product Reviews For Finasteride Tablets
Finasteride PRICES
*Please note: We do NOT charge a prescription fee
| Medicine | x28 Tablets (1 Month) | x56 Tablets (2 Months) | x84 Tablets (3 Months) | x168 Tablets (6 Months) |
| --- | --- | --- | --- | --- |
| Finasteride Tablets 1mg | 13.89 | 27.75 | 33.99 | 58.79 |
| Finasteride Tablets 1mg (Accord Brand) | 16.99 | 33.49 | 45.99 | 79.99 |