What Is The Correct Aciclovir Dosage?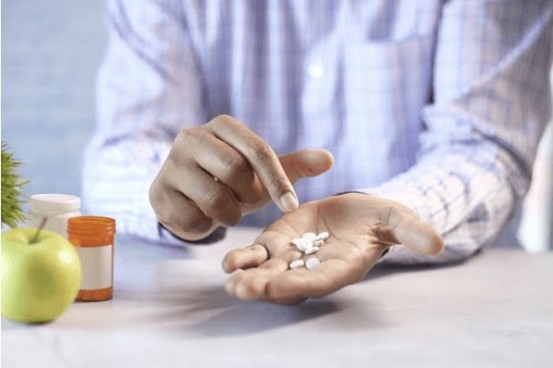 What is aciclovir and what does it do?
Aciclovir, also referred to as 'acyclovir', is an antiviral medicine that is used to treat infections caused by the herpes virus (herpes simplex), such as cold sores and genital herpes. It is also used to treat chickenpox and shingles. 
If you have herpes, chickenpox, or shingles, aciclovir can reduce the severity and length of the outbreak. It is strongly recommended that you take a herpes test kit if you are experiencing any symptoms of genital herpes, and refrain from any sexual activity before seeking treatment.
It is important to look out for symptoms of genital herpes and get treatment as quickly as possible. Symptoms include:
Itchiness
Small blisters that burst and leave open sores around your anus, genitals and thighs
Pain when you urinate
Vaginal discharge
Unfortunately, there is no cure for genital herpes. However, aciclovir tablets are effective at managing symptoms of genital herpes, such as helping sores heal and preventing new sores from developing.
It usually takes a few days to see and feel the benefits of aciclovir as a treatment for herpes, chickenpox or shingles outbreaks. By taking aciclovir, you can reduce the length and severity of symptoms. People with a weak immune system who are less able to fight infections can take aciclovir to stop the viruses mentioned above. 
In the UK, aciclovir requires a prescription from a doctor or pharmacist. will verify your suitability for the genital herpes treatment and then your prescription can be fulfilled at the pharmacy – either online or on the high street. 
To buy aciclovir tablets online, we ask that you complete a consultation through our online pharmacy. As soon as it has been approved by one of our pharmacists, we will send the medication to you in an unmarked package for complete privacy. 
Dosage varies according to why the treatment has been prescribed. Here we will look at the difference between the doses, and why they are commonly prescribed.
Difference between the doses
Aciclovir tablets are prescribed in a variety of dosages, in accordance with the infection being treated. You will find aciclovir available in three doses; 200mg, 400mg and 800mg. These come in either a tablet or capsule form. 
We offer 400 mg aciclovir tablets at Chemist Click, in quantities of 15 tablets (one outbreak), 30 tablets (two outbreaks), 45 tablets (three outbreaks) and 180 tablets (three month suppression).
Now let us look at these three main doses individually, and discuss what they are usually used for treating.
Aciclovir 200mg
Aciclovir 200mg is the smallest aciclovir dose, available on prescription in the form of tablets. You might be prescribed a 200mg aciclovir dosage if you have genital herpes, and have contracted it for the first time, or have experienced a flare-up. 
You would usually be instructed to take 200mg aciclovir tablets five times per day over the course of five days, spacing out each dose by about three to four hours. For severe outbreaks, a course of over five days might be recommended by your doctor. Aciclovir 200mg can also be a general treatment for cold sores. 
Aciclovir 400mg
Usually, 400mg is the dose of aciclovir that is given for the prevention of herpes which causes recurring symptoms. The quicker you start to take aciclovir tablets after you experience herpes symptoms – such as sores, blisters or burning – the sooner the medication can begin to ease symptoms.
The usual dosage of 400mg aciclovir tablets for treating recurring herpes is one tablet three times a day, for as many days as prescribed (usually five days). The 400mg dose can also be given for the prevention of recurrent herpes in the future, typically taken twice per day for three to six months, as advised by your doctor. 
Aciclovir 800mg
Aciclovir 800mg tablets are typically a dose that used for the treatment for viral infections such as chickenpox and shingles. If you are taking 800mg aciclovir tablets for chickenpox, the normal dosage is 800mg four times per day for a duration of five days, taken as soon as possible after symptoms appear. For shingles, the dosage is usually 800mg five times per day for a course of seven to ten days. 
As you can see from the details above, the aciclovir dosage will depend on the condition being treated. Your doctor will advise how long your course of aciclovir is, and you should always follow these instructions, along with guidance on dosage frequency. 
The 400mg aciclovir tablets we offer here at Chemist Click are used to treat herpes outbreaks and flare-ups, as well as to prevent recurrences in the future. Always read the patient information leaflet before taking the medication. 
To find out more about aciclovir, please visit our what is aciclovir article and our aciclovir reviews page. 
If you suffer from genital herpes and need more information about the best medication for you, take a look at our 'Best Genital Herpes Treatment' guide. We also stock a range of other popular herpes treatments like valaciclovir tablets (also known as Valtrex).
To learn more about genital herpes, from types of herpes to the symptoms to look out for, take a look at our 'What Is Genital Herpes' guide. Alternatively, you can view our genital herpes FAQ page for more information.
Whilst all of our content is written and reviewed by healthcare professionals, it is not intended to be substituted for or used as medical advice. If you have any questions or concerns about your health, please speak to your doctor.