What Is Duac Gel & How Long Does It Take To Work?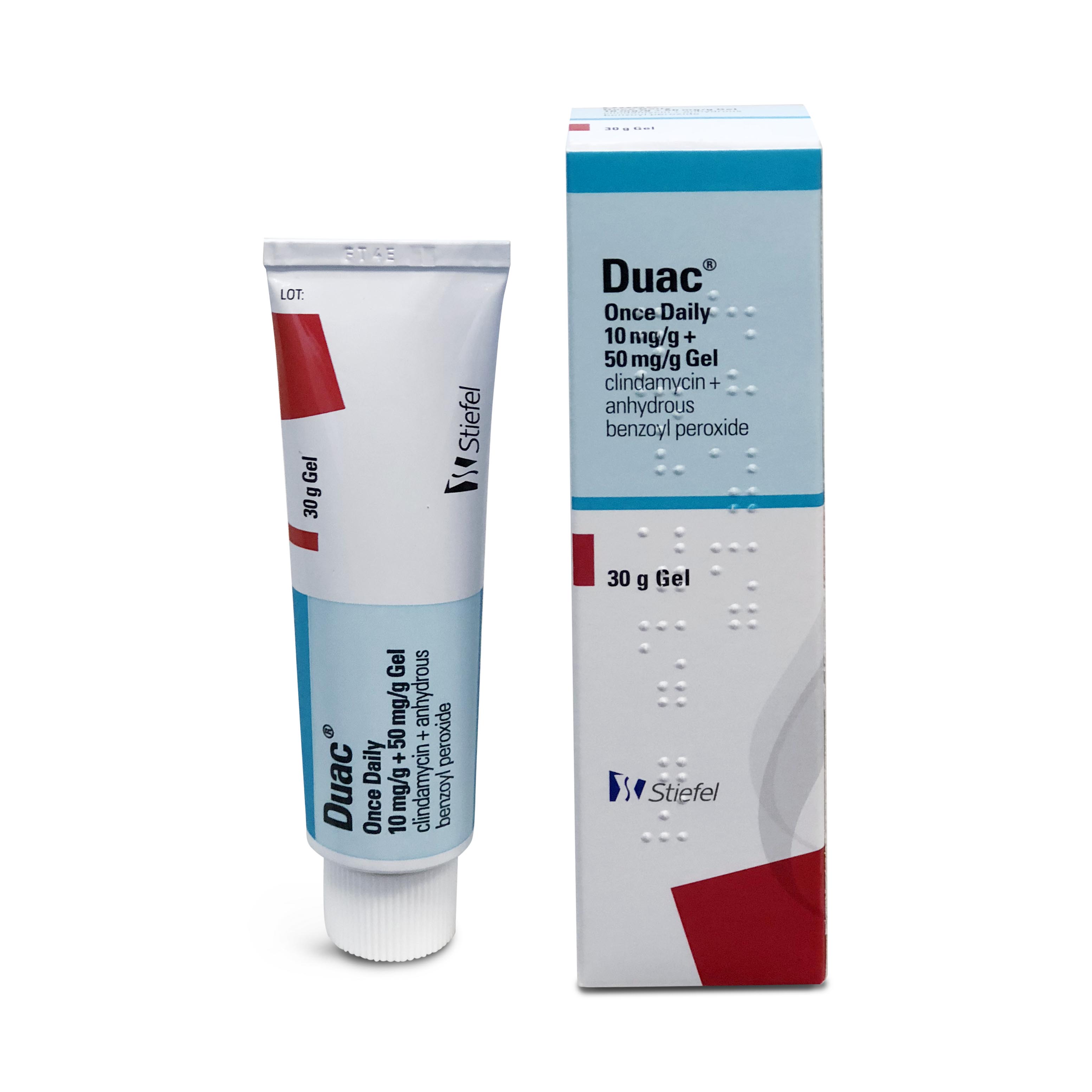 Have a free consultation today
Have Duac delivered to you after a free consultation with a pharmacist
Duac
is a gel-based
acne treatment
designed to be applied directly onto the skin. For anyone who is suffering from mild to moderate cases of acne and is seeking a swift and effective solution, Duac can prove to be an effective treatment.
Duac is a medication which requires a prescription, so you will be required to have a consultation with a healthcare professional before you can buy Duac.
Learn more about the treatment below and find out whether it is the right choice for you, as we answer some of the most frequently asked questions about Duac gel.
What Does Duac Do?
Duac gel is a treatment for those suffering from acne. Whilst there are many acne treatments out there, Duac may prove to be more powerful and effective for many patients. This is because it contains not one but two active ingredients — one, a keratolytic (benzoyl peroxide) that sheds the top layer of the skin, and the other, an antibiotic (clindamycin) that supports clear skin by killing bacteria that causes acne.
Many other acne treatments, including benzoyl peroxide, Differin and Epiduo do not contain an antibiotic, and are usually used as first and second line treatments before Duac is prescribed. While these treatments are also effective, they tend to be gentler and may not be as effective in treating moderate to severe acne. Because of the antibiotic ingredient, Duac gel may cause skin dryness, which may disappear once your skin is used to the product. You can use a gentle hypoallergenic moisturiser during the day, to reduce skin dryness. In the event that any skin dryness persists for longer than a week, it is important to consult the clinician or medical professional who prescribed you the gel.
Not all acne sufferers will find that Duac gel is suitable for them. Patients with particularly dry skin, for example, may find that Duac causes further irritation, whilst those with antibiotic allergies should steer clear of Duac altogether. If you have used an antibiotic on your skin recently, Duac may not be appropriate as it can cause antibiotic resistance. Consulting with your doctor or with a clinical expert will help you to understand whether this treatment is right for you.
How Does Duac Gel Work?
Duac gel works thanks to a combination of its two active ingredients. Each of the active ingredients have a different mechanism of action and they work effectively together to combat acne.
The first active ingredient is benzoyl peroxide. This is an antibacterial agent and works to eliminate some of the forms of bacteria associated with acne. This is an important part of the treatment process, helping to keep acne in check and avoid breakouts from worsening. Benzoyl peroxide also has other benefits for acne sufferers. It is useful in breaking down keratin protein chains in the skin, effectively rejuvenating the top layer of your skin by allowing it to shed dead cells that may be blocking pores.
The second active ingredient is clindamycin. This is the antibiotic component of Duac gel and is the main reason that you need a prescription to access the treatment. While benzoyl peroxide works to treat the immediate signs and symptoms of acne, clindamycin has a more long-term purpose. It kills bacteria in the sebum — an oily substance naturally produced by the skin — helping to prevent pore blockages and reducing inflammation so that healthier layers of skin can grow.
Together, these active ingredients kill the bacteria that causes acne, as well as exfoliating the skin to make way for the growth of clear, healthy skin in the future.
How Long Does Duac Gel Take to Work?
Some users report that Duac gel is extremely fast-acting, sometimes taking only a single day — or a single use — to begin working. However, in most cases, it should take between two and four weeks before significant results start to appear. 
The longer you use the gel, the better these results should become. Despite this, the gel should not be used beyond the full course of 12 weeks, unless you have been advised to continue to use the gel beyond the 12-week course. Continuing to use the gel beyond this can contribute to antibiotic resistance. This is occurs as a result of long-term use, or using antibiotics on and off, where bacteria build up resistance to the antibiotics which have been designed to kill them.  To prevent this from happening, it is recommended to switch to a gentler acne treatment product, such as Epiduo or Differin, to keep acne under control for longer periods of time.
If Duac gel is not working for you, you will be able to confirm this relatively quickly. Don't be alarmed if you are not seeing results in the first couple of weeks, or even up to and beyond the four-week period mentioned above. If by eight weeks you still have not noticed any significant improvement, you should consult your doctor or pharmacist for advice. Whilst Duac reviews suggest that it is effective for more people, each case is unique and there are many different factors that may make it unsuitable for you.
What Is Duac Gel Used For?
Duac gel is best suited to outbreaks of acne that are classed from mild to moderate. The gel is used in treating cases of acne that appear on the face, chest, and back — also known as "bacne". You should consult your doctor or pharmacist if you wish to use Duac gel for other applications or to combat acne elsewhere on the body.
The treatment is designed to be easy to use and is a topical formula that you can apply directly to your skin. In most cases, you will need to apply the gel to the affected area every day, usually as part of your evening routine. It is not recommended to apply Duac gel in conjunction with any other acne treatment, and only one application is needed each day.
You'll need to prepare the area before application. Give it a gentle wash with warm, clean water, and avoid using soap, shampoo, or products which can irritate acne. You don't want to cause any breakage to the skin or make the acne worse by drying too vigorously, so be gentle and pat the skin dry.
Once your skin is dry, put a small amount of gel on your fingertips and then apply directly to the affected area. Gently rub the gel into the skin and continue rubbing until there is no residue left on the surface and all the gel is absorbed into the skin.
Whilst using treatment, avoid sources of UV light, for example, direct sunlight or tanning lamps. This is because the Duac gel increases the skin's sensitivity to sunlight.
Duac may also bleach bedsheets, hair and other fabrics. You should try to avoid contact with such materials.
Can You Get Duac Gel Over the Counter?
No, you cannot get Duac gel over the counter. This is because Duac gel contains an antibiotic. Whilst antibiotics are very useful for fighting certain infections — including those associated with acne — they also carry a number of dangers including digestive problems, the potential of antibiotic resistance, and allergic reactions. 
To purchase Duac gel, you will first need to have the treatment prescribed to you by a licensed clinician or medical professional. You will need to undergo an assessment, discussing your needs and your medical history, so they can identify whether the treatment is suitable for your specific case. Antibiotic allergic reactions can be mild, or they can have very serious, long-term symptoms, which is one of the reasons Duac can only be provided with a prescription.
Whilst all of our content is written and reviewed by healthcare professionals, it is not intended to be substituted for or used as medical advice. If you have any questions or concerns about your health, please speak to your doctor.