Surgical Face Masks

Surgical face masks are used to provide protection against bacteria and viruses. At Chemist Click, we offer two types of surgical face masks - Type IIR and standard 3-ply. Our masks are purchased from UK registered pharmacy and medical supply wholesalers. 
Next Day Delivery
Plain & Discreet Packaging
Confidential Service
UK registered service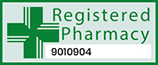 ABOUT Surgical Face Masks
What is a surgical mask?
A surgical face mask is designed to loosely fit around your mouth, nose and chin. The aim of a surgical mask is to prevent the spread of infectious diseases and viruses by acting as a barrier to droplets in the air. The mouth and nose are entry points for bacteria and viruses, so by keeping these covered, you reduce the chances of catching disease. They can also reduce the risk of passing on any secretions to others. Surgical masks can also act as a reminder to the user, not to touch their mouth or nose.
Type IR Procedure Mask-1091
These masks have three layers of unfolded structure, and conform to the European Standards EN-149:2001 + A1:2009. They are classified as FFP2 filtering 94% of airborne particles.
Type IIR Surgical Mask (Fluid Resistant)
These are type 2R surgical masks conforming to the European Standards EN14683. They have a Bacterial Filtration Efficiency of around 94%, and are resistant to fluid droplets.
Product Reviews For Surgical Face Masks
Surgical Face Masks PRICES
*Please note: We do NOT charge a prescription fee
| Medicine | x50 Masks | x100 Masks | x150 Masks | x200 Masks | x250 Masks | x500 Masks | x750 Masks | x1000 Masks |
| --- | --- | --- | --- | --- | --- | --- | --- | --- |
| Surgical Face Masks Type IIR (fluid resistant) Masks | 7.95 | 15.89 | 23.45 | 30.89 | 36.99 | 72.99 | 109.99 | 139.99 |
| Surgical Face Masks 3ply Face Mask (Non-medical) Masks | 7.49 | 14.89 | 21.99 | 29.45 | | 69.99 | | 124.99 |