Next Day Delivery
Plain & Discreet Packaging
Confidential Service
UK registered service
Treclin Gel
Treclin is an acne treatment that works to clear breakouts, blackheads, whiteheads, blemishes and clogged pores. Treclin contains clindamycin (an antibiotic that reduces the growth of bacteria) and tretinoin (which helps to regulate the turnover of skin cells, making it harder for acne to develop).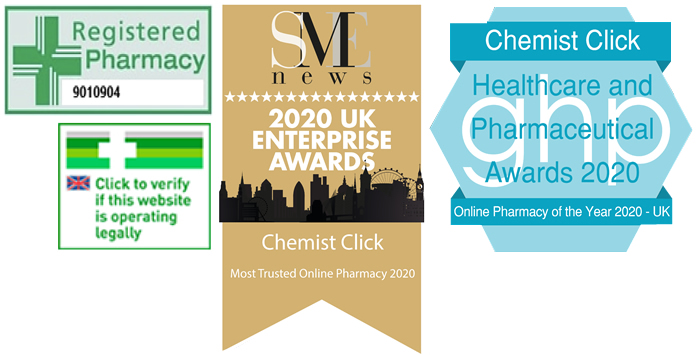 ABOUT Treclin Gel
What is Treclin Gel?
Treclin is an acne treatment that contains an antibiotic, clindamycin and a retinoid called tretinoin. It works to reduce the symptoms of acne. It is usually used when over the counter treatments and non-antibiotic prescription medication have failed.
How does Treclin Gel work?
Treclin gel works by preventing the growth of bacteria that causes acne. It also reduces the amount of oil your skin produces, allowing the skin to shed and reduce inflammation associated with acne.
How should I use Treclin Gel?
To use Treclin, apply a pea-sized amount on your fingertip, dabbing the gel on sections where acne is present. Gently rub the gel into your skin, spreading it evenly across your face.
Before you use Treclin, wash your face with warm water and a gentle facewash. Ensure that your face is dry before applying the gel.
Important note: You will not get better results or see faster results by using more than the recommended amount of Treclin. It can cause skin irritation and increase the likelihood of experiencing side effects.
When should I use Treclin?
You should use Treclin gel at night. This is because it contains a retinoid, which can increase the skin's sensitivity to sunlight. You should use Treclin every night until your course is complete.
How long before I can see results with Treclin?
Treclin can make skin appear worse within the first 7-10 days. This is known as purging. You should start to see that Treclin is working after 2-3 weeks, and by week 6, you should notice that Treclin is clearing your acne. You should not use Treclin for more than 12 weeks unless your doctor or pharmacist advises you to do so.
If you feel that Treclin is not helping your skin, you should see your doctor or pharmacist.
How long can you use Treclin for?
You can use Treclin gel for up to 12 weeks. It is important to continue to use Treclin for up to 12 weeks and you should not exceed the length of treatment that your doctor or pharmacist prescribes. This is because it can cause your skin to become resistant to the antibiotic clindamycin, which is contained in Treclin.
Important note: Using Treclin beyond 12 weeks may contribute to antibiotic resistance. You should only use Treclin again after a lengthy break, to avoid your skin becoming resistant to Treclin.
What is the purge?
The purge is when your skin experiences dryness, peeling and small spots. Essentially, it is your skin getting worse before it gets better. Purging happens because Treclin contains a retinoid, which increases the rate at which your body produces new skin. It is causing the top layer of your skin to shed and get rid of the bacteria, sebum and dead skin cells. This term is often referred to as the "tretinoin purge" or "skin purging".
The tretinoin purge can last for around 2-6 weeks before your skin clears up. Not everyone experiences purging, but it is common when using retinoids.
Important note: Skin purging looks like small red bumps and irritation on your skin, but it is a good sign that treatment is working. If you experience rashes, raised skin, or your skin is breaking, it may be reacting. You should stop treatment and visit your doctor or pharmacist for advice.
Who should not use Treclin?
Do not use Treclin if
If you are pregnant
If you are planning to become pregnant
If you are allergic to clindamycin, tretinoin, lincomycin or any of the other ingredients of this medication
If you are suffering from acne that is characterized by pustular and deep cystic nodular acne lesions (acne conglobata and acne fulminans).
If you are suffering from acute eczema which is characterised by inflamed, red, dry and scaly skin
If you are suffering from rosacea, a skin disease which affects the face and is characterised by redness, pimples and peeling.
If you are suffering from other acute inflammatory conditions of the skin (e.g. folliculitis), especially around the mouth (perioral dermatitis)
If you have a history of colitis with past antibiotic use which is characterised by prolonged or significant diarrhoea or abdominal cramps
If you or a member of your family have ever suffered from skin cancer
You should speak to your doctor if you wish to use Treclin and have:
Atopic eczema or other skin conditions
Severe acne
Recently used antibiotics
Can I use Treclin if I am pregnant of breastfeeding?
Do not use Treclin if you are pregnant or planning to become pregnant. You should use contraception while using Treclin and for one month after you stop using this medication.
It is unknown if Treclin can pass through human milk, so you should not use it when breastfeeding.
What should I do once my course of Treclin is complete?
Once your course of Treclin is complete, your prescriber will inform you whether you should continue to use Treclin. This will depend on your response to treatment and the length of time you have been using Treclin for. If your acne has cleared, you may be prescribed with Differin or Epiduo, as these products also contain a retinoid. They do not contain antibiotics and are therefore safe to use long term to prevent outbreaks and maintain your skin.
What should I do if Treclin has not worked?
If Treclin has not been successful, you should visit your doctor or pharmacist. You may be prescribed with an alternative antibiotic, such as Zineryt. For females, it is common practice to be prescribed with the contraceptive pill, as this can help to reduce acne caused by hormonal changes in the body.
Is Treclin good for wrinkles, rosacea, hyperpigmentation, and acne scars?
Treclin contains a retinoid that is proven to help reduce wrinkles and treat rosacea, hyperpigmentation, and acne scars. However, it is not licensed to treat these conditions and you should visit your dermatologist if you wish to seek treatment for these conditions.
Can I use Treclin with other acne treatments?
You should not use Treclin with other acne treatments unless your doctor or pharmacist instructs you to. This is because most acne treatments tend to dry and irritate the skin. If you are using any preparations that contain sulphur, salicylic acid, benzoyl peroxide, resorcinol or retinols, or any chemical abrasives, wait until the effects of those settle before you use Treclin.
Do not use medicated soaps cleansers or scrubbing solutions with strong drying effects, during treatment with Treclin.
You should be careful when using the following, as they may have a drying effect: abrasive soaps, soaps and cosmetics and products with high concentrations of alcohol, astringents, spices or lime.
Important note: Do not use Treclin with any other antibiotics as this can contribute to antibiotic resistance. You should not use Treclin if you have used an alternative treatment such as Duac, which contains the same antibiotic.
Side Effects
What are the side effects of Treclin gel?
Common side effects of Treclin include but are not limited to:
Dryness and redness of the skin
Burning sensation
Increased sensitivity to sun light, sunburn
Increased sebum production
Skin rash and scaling
Uncommon or rare side effects:
Hypersensitivity
Acne
Headache
Eye irritation
Underactive thyroid gland
We advise to check the full list of side effects here. You may also wish to visit the acne section on the NHS website for more useful information.
If you experience any of the above side effects, or ones not included in the list, contact your doctor or pharmacist immediately. In the case of a medical emergency, call 999 or visit your local hospital's A&E department.
You can also report side effects directly via the MHRA's Yellow Card Scheme. Reporting side effects can help provide more information on the safety of this medicine.
Both Treclin and Epiduo contain derivatives of vitamin A at different concentrations depending on the severity of acne and combined with two different antibiotics. Treclin , combined with clindamycin, contains 0.025% tretinoin and is used for moderate case acne, while Epiduo, combined with benzyl peroxide, contains 1% adapalene (retinoid) and is used for mild to moderate acne.
As with all products that contain tretinoin, Treclin can increase your skin's sensitivity and cause excessive dryness and discomfort. Use a water-based, fragrance-free moisturiser during the day, to relive any symptoms of dryness.
Treclin contains 0.025% tretinoin in combination with 1% clindamycin, an antibiotic.
HOW TO USE Treclin Gel
Wash your face with lukewarm water and mild cleanser then dry. Apply Treclin 20 minutes after the skin has completely dried
Spread a pea-sized amount evenly on the face at bedtime. Do not use more than suggested, as this will not provide faster or better results and may cause irritation and discomfort to the skin
Use this medication at bedtime and avoid sun light and artificial light because the skin is prone to reacting when using Treclin. A sunscreen with a minimum SPF of 30 can be used to avoid irritation
Avoid contact with the lips and eyes, or any area on the face that is wounded, such as sunburnt areas, or areas affected by eczema. If Treclin comes into contact with your eyes, rinse with water
Product Reviews Treclin Gel?
TREATMENT PRICES
*Please note: We do NOT charge a prescription fee
| Medicine | x1 Tube (30g) | x2 Tubes (60g) | x3 Tubes (90g) |
| --- | --- | --- | --- |
| Treclin Gel | 29.99 | 53.99 | 74.99 |