Eropid Tablets

Eropid is an erectile dysfunction treatment available to buy over the counter. It contains the active ingredient sildenafil 50mg and is similar to Viagra Connect.
Next Day Delivery
Plain & Discreet Packaging
Confidential Service
UK registered service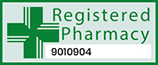 ABOUT Eropid Tablets
What is Eropid?
Eropid is an over the counter treatment for erectile dysfunction. It contains 50mg of the active ingredient sildenafil. Until 2018, sildenafil was only available as a Prescription Only Medication (POM). Following a consultation by the MHRA, it was agreed that sildenafil should be made available as a Pharmacy (P) medication in the UK, for the treatment of erectile dysfunction in men aged 18 and over. Sildenafil became available over the counter at pharmacies, in the form of Viagra Connect. This was followed by Eropid, which is a cost-effective version. The reason for this was to increase awareness of ED, a condition that is very common especially in men over the age of 40. Increasing the accessibility of sildenafil has the potential to increase quality of life and improve relationships in men suffering with ED. Making this drug easier to access and affordable will also reduce the likelihood of men trying to purchase medication from illegal websites online. It has a well-known safety profile and has been used to successfully treat ED for many years.
How does Eropid work?
Eropid belongs to a class of medication known as PDE5 inhibitors. It helps to increase blood flow to the penis, so that you can achieve and maintain an erection. Eropid will only work where there is sexual stimulation.
How long does it take for Eropid to work?
It takes around 1 hour for Eropid to take effect. Food can reduce the absorption of sildenafil and it is advisable to take Eropid on an empty stomach, or after having eaten a light meal.
How long does Eropid last for?
The effects of Eropid last for up to 4 hours on average. This does not mean that you will have an erection for 4 hours continuously. Rather, you will be able to achieve and maintain an erection satisfactory for sexual intercourse, for a period of 4 hours when sexually aroused.
What should I do if Eropid is not working?
If Eropid has not worked the first time, you should not panic. It can take some time to get used to the idea of taking a tablet before sex. You should try taking Eropid on eight separate occasions, before deciding whether or not treatment is effective. You should try to relax and maintain an easy state of mind. If you find that Eropid is not effective, you should visit your GP or pharmacist to discuss alternative options.
Who should not use Eropid?
You should always check with your doctor or pharmacist, before taking medication. It is important to make them aware of any medical conditions you have, or any medication you are taking.
You should not use Eropid if you have:
Been advised to avoid physical or sexual activity
You experience chest discomfort or feel breathless when doing light to moderate activity
You have heart problems such as low blood pressure or very high blood pressure, you have had a recent stoke, heart attack or angina, problems with the valves in your heart, inflammation in your heart muscle, cardiac failure or problems with the way blood flows in your heart
Peyronie's disease or deformation of the penis
Certain eye conditions which affect the optic nerve or your vision
Intolerance to galactose
Liver or kidney problems
Sickle cell anaemia, multiple myeloma or leukaemia
Stomach ulcers
Bleeding problems
You should not take Eropid if you are taking any of the following medication:
Nitrates used to treat chest pain
Drugs called poppers
Riociguat or other drugs used to treat lung conditions that belong to the class of medication called guanylate cyclase stimulators
Ritonavir used to treat HIV
Certain medication used to treat an enlarged prostate. These are known as alpha-blockers such as doxazosin, alfuzosin or tamsulosin
Certain medication belonging to the class of drugs known as CYP3A4 inhibitors such as saquinavir, cimetidine, itraconazole/ketoconazole, erythromycin, rifampicin, diltiazem
What is the difference between Eropid and Viagra Connect?
Eropid and Viagra Connect both contain sildenafil 50mg. They are both licensed to buy over the counter at pharmacies without a prescription and the only difference is the price. Viagra Connect is more expensive than Eropid, even though they contain the same active ingredient and are medically equivalent. This is a commercial decision that comes down to brand marketing and the price has no reflection on the quality of drug, or its effectiveness.
Side Effects
What are the side effects of using Eropid?
The use of Eropid may cause side effects. However not everyone will experience them. These include but are not limited to the following:
Allergic reactions – symptoms for which usually include sudden wheeziness, difficulty in breathing, swelling of the eyelids, face, lips, or throat. If you experience any of these side effects, contact your doctor immediately or in the case of a medical emergency, visit your local hospital's A&E department.
Very common side effects (affecting more than 1/10 people):
Common side effects (affecting up to 1/10 people):
Indigestion
Effects on vision
Sensitivity to light
Stuffy nose
Dizziness
Uncommon side effects (affecting up to 1/100 people):
Bloodshot or red eyes
Eye pain
Vomiting
Skin rash
Irritation in eye
Presence of blood in urine or semen
Chest pain and tiredness
Ringing ears
Penile bleeding
Rare side effects (affecting up to 1/1000 people):
High or low blood pressure
Stroke
Heart attack
Nosebleed
Fainting
Sudden decrease or loss of hearing
If you experience any of the above side effects, or ones not included in the list, contact your doctor or pharmacist immediately. In the case of a medical emergency, call 999 or visit your local hospital's A&E department. A full list of side effects can be found in the Patient Information Leaflet.
You can also report side effects directly via the MHRA's Yellow Card Scheme. Reporting side effects can help provide more information on the safety of this medicine.
Patient Information Leaflet
For more information about Eropid erectile dysfunction treatment, take a look at the patient information leaflets below:
Where can I find out more information about Eropid?
To find out more information about Eropid, visit the NHS website.
Product Reviews For Eropid Tablets
Eropid PRICES
*Please note: We do NOT charge a prescription fee
| Medicine | x2 Tablets | x4 Tablets | x8 Tablets | x12 Tablets | x16 Tablets | x20 Tablets | x24 Tablets | x28 Tablets | x32 Tablets | x64 Tablets |
| --- | --- | --- | --- | --- | --- | --- | --- | --- | --- | --- |
| Eropid 50mg Tablets | 6.75 | 13.49 | 23.99 | 33.99 | 43.99 | 53.99 | 63.49 | 72.49 | 79.99 | 145.99 |