Vardenafil

Vardenafil (generic Levitra) is a PDE5 inhibitor, used to treat erectile dysfunction. It is available as 5mg, 10mg and 20mg tablets. It needs to be taken 30-60 minutes before sexual activity and is effective for around 4-5 hours.
Next Day Delivery
Plain & Discreet Packaging
Confidential Service
UK registered service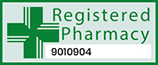 ABOUT Vardenafil
What is Vardenafil?
Vardenafil is an erectile dysfunction treatment which belongs to a class of drugs known as phosphodiesterase type 5 (PDE-5) inhibitors. It is the non-branded version of Levitra and is commonly referred to as "generic Levitra".
How does it work?
Vardenafil tablets work by increasing blood flow to the penis during sexual stimulation. The increase in blood flow can help to achieve and maintain an erection. Vardenafil will only work if there is sexual stimulation and will not increase sexual desire. PDE5 inhibitors may not always work the first time you take them. You should keep an open mind and try treatment on several occasions before deciding whether to increase the dose or try an alternative medication. You should speak to your doctor or pharmacist if you find that treatment is not effective.
How long does Vardenafil take to work?
Vardenafil tablets usually take around 30 to 60 minutes to work. For Vardenafil to work quicker, you should take it on an empty stomach. Taking a tablet after a heavy meal will mean that it will take longer for the effects to kick in.
How long does Vardenafil last for?
The effects of Vardenafil last for around 4-6 hours on average. This can vary slightly and factors such as body weight and frame of mind can influence the length of time that vardenafil is effective for.
How do I take Vardenafil?
Take one tablet around 30 to 60 minutes before sexual activity. Swallow the tablet whole with a glass of water. If you are sexually stimulated, you may achieve an erection anywhere between 30 minutes to 4 hours after having taken a tablet. If you are trying Vardenafil for the first time, you should start off with the 10mg dose.
What dose of Vardenafil should I take?
Vardenafil is available in 3 different strengths.
Vardenafil 5mg is the recommended dosage for men over the age of 60 or those who have experienced side effects with higher doses of vardenafil or other ED treatments.
Vardenafil 10mg is the recommended dose for men who are taking vardenafil for the first time.
Vardenafil 20mg is the recommended dose if 10mg has been unsuccessful.
You should not take more than one tablet within a 24-hour period.
Is Vardenafil better than Viagra?
Vardenafil and Viagra both belong to the class of drugs known as PDE5 inhibitors and will have a similar effect. However, some men may find one works better than the other, based on their own experience. Vardenafil offers some benefits over Viagra; one of those being that it is more potent and requires a lower dose, which arguably may result in less side effects. For example, vardenafil does not alter colour perception like Viagra does. Another benefit is that vardenafil is available in an orodispersible tablet (can dissolve on the tongue) and can be taken discreetly, like a mint. Most studies conclude that both vardenafil and Viagra are very similar in effectiveness. Different people react in different ways to medication, so it is important to find which tablet and strength works best for you.
Who should not take Vardenafil tablets?
Vardenafil can interact with some medication and may not be suitable to use if you have certain medical conditions.
Do not take Vardenafil if:
You are allergic to vardenafil or any of the other ingredients contained within it. A full list of ingredients can be found in the patient information leaflet.
You are taking medication containing nitrates
You are taking ritonavir or indinavir, medicines which are used to treat HIV
You are over 75 years of age and are taking itraconazole or ketoconazole
You have severe heart or liver problems
You are having kidney dialysis
You have recently suffered a stroke or heart attack
You have or have previously had low blood pressure
You have a family history of degenerative eye diseases
You have ever had a condition involving loss of vision due to optic nerve damage
You are taking riociguat
Consult with your GP or pharmacist before using Vardenafil if:
You have heart problems
You suffer from irregular heartbeat
You have a physical condition which affects the shape of the penis
You suffer from priapism
You have stomach ulcers
You have a bleeding disorder
You are using any other erectile dysfunction treatments
What to do if Vardenafil does not work?
Before giving up on vardenafil, you should try it on a few separate occasions before deciding it is not for you. If you have started on the 5mg or 10mg dose and have experienced some benefit, you should try the 20mg strength. If the 20mg tablet is not providing the desired effects after several attempts, there are alternative options such as sildenafil and tadalafil. You should speak to your doctor or pharmacist about trying a different tablet.
Side Effects
What are the side effects of Vardenafil?
Like all medication, the use of vardenafil may cause side effects in some people. These include but are not limited to the following:
Very Common (affecting more than 1 in 10 people):
Common (affecting up to 1 in 10 people):
Flushing
Blocked or runny nose
Indigestion
Dizziness
Uncommon (affecting up to 1 in 100 people):
Sleep disorder
Numbness and impaired perception of touch
Sleepiness
Effects on vision
Vertigo
Breathlessness
Irregular heartbeat
Prolonged erections
Back or muscle pain
Rare (affecting 1 in 1000 people):
Allergic reaction
Anxiety
Amnesia
Seizures
High or low blood pressure
Painful erection
For a full list of side effects, please refer to the patient information leaflet
Patient Information Leaflet
For more information about Vardenafil erectile dysfunction treatment, take a look at the patient information leaflets below:
Where can I find out more information about Vardenafil?
To find out more information about Vardenafil, visit the NHS website.
Product Reviews For Vardenafil
Vardenafil PRICES
*Please note: We do NOT charge a prescription fee
| Medicine | x4 Tablets | x8 Tablets | x12 Tablets | x16 Tablets | x20 Tablets | x24 Tablets | x28 Tablets | x32 Tablets | x64 Tablets |
| --- | --- | --- | --- | --- | --- | --- | --- | --- | --- |
| Vardenafil 5mg Tablets | 11.99 | 23.49 | 33.49 | 43.49 | 53.49 | 63.49 | 73.49 | 83.49 | 139.99 |
| Vardenafil 10mg Tablets | 13.99 | 25.99 | 35.99 | 45.99 | 55.99 | 65.99 | 75.99 | 85.99 | 149.99 |
| Vardenafil 20mg Tablets | 15.75 | 29.49 | 39.45 | 49.45 | 59.45 | 69.45 | 79.45 | 89.45 | 169.99 |