Loratadine

Loratadine is a non-drowsy antihistamine that relieve symptoms of hay fever and allergy. It usually works within 60 minutes and can relieve symptoms for up to 24 hours.
Next Day Delivery
Plain & Discreet Packaging
Confidential Service
UK registered service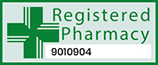 ABOUT Loratadine
What is Loratadine?
Loratadine is an antihistamine which is used as a hay fever treatment. It blocks the production of histamine, a substance produced by your body during an allergic reaction. It is used to reduce symptoms such as itching, sneezing, hives, a runny nose or watery eyes and other allergy symptoms
How do I take it?
Take Loratadine exactly as you have been advised by your GP or pharmacist. The usual dose is one tablet daily. This medication should be swallowed whole and can be taken before or after eating. If your symptoms have not improved after 3 days of this treatment, contact your GP or pharmacist for advice.
What if i forget to take it?
If you miss a dose, take it at as soon as you remember, and take the following dose at the correct time. Do not double dose to make up for a missed dose.
How long does it take for Loratadine to work?
It takes around 1 hour for Loratadine to work and it provides relief for up to 24 hours.
Who should not use Loratadine?
You should not take this medication if you are allergic to loratadine, or any of the ingredients in the tablet which can be found in its patient information leaflet
You should seek advice from your pharmacist or GP before taking Loratadine if:
You or any of your family members have a history of liver problems
You are about have a skin test
You have taken, are currently taking, or are planning to take any other medication
You are pregnant, planning to get pregnant, or breast-feeding
You have an intolerance to sugars
Loratadine does not cause drowsiness in most people. However, you should ensure that it does not make you feel drowsy before driving or operating machinery.
Does Loratadine interact with other medication?
Medication that may interact with Loratadine include but are not limited to the following:
Moderate Reactions:
Amiodarine
Bosentan
Etravirine
Histamine Phosphate
Lefamulin
Pitolisant
Voriconazole
Minor Reactions:
Armodafanil
Clarithomycin
Erythromycin
Modafanil
If you take medication and you think there may be an interaction, please ask your pharmacist for advice.
Can Loratadine make you sleepy?
Loratadine is a non-drowsy antihistamine. However, a small number of people may experience drowsiness after taking a tablet.
Side Effects
Side Effects of Loratadine
Loratadine may cause side effects for some people. If you notice any side effects, stop treatment and contact your GP or pharmacist for advice. In the case of an emergency, discontinue treatment and go to your nearest hospital.
Commonly reported side effects include but are not limited to:
Drowsiness
Headaches
Difficulty sleeping
Increased appetite
Very rare side effects include but are not limited to:
Fast or irregular heartbeat
Nausea
Dry mouth
Liver problems
Hair loss
Tiredness
Convulsion
If experience any of these side effects, or side effects that have not been mentioned, discontinue treatment and seek medical advice.
Product Reviews For Loratadine
Loratadine PRICES
*Please note: We do NOT charge a prescription fee
| Medicine | x30 Tablets (1 Month) | x60 Tablets (2 Months) | x90 Tablets (3 Months) | x180 Tablets (6 Months) |
| --- | --- | --- | --- | --- |
| Loratadine 10mg Tablets (1 Month) | 1.45 | | | |
| Loratadine 10mg Tablets (2 Months) | | 2.95 | | |
| Loratadine 10mg Tablets (3 Months) | | | 4.45 | |
| Loratadine 10mg Tablets (6 Months) | | | | 8.89 |