Desloratadine

Desloratadine is a non-drowsy antihisamine which usually works within 60 minutes. It provides relief for symptoms of allergic rhinitis (hay fever) for up to 24 hours.
Next Day Delivery
Plain & Discreet Packaging
Confidential Service
UK registered service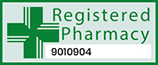 ABOUT Desloratadine
What is Desloratadine?
Desloratadine is an antihistamine which is used to reduce symptoms such as sneezing, itchy eyes, runny nose and hives which are caused as a result of an allergy. Antihistamines work by stopping the production of histamine, a natural substance created by your body during an allergic reaction.
How does Desloratadine 5mg work?
Desloratadine blocks the release of histamine, a chemical that the body releases in response to an allergy. Histamine causes symptoms such as sneezing, runny nose, itchy eyes, and itchy skin. Because desloratadine stops the release of histamine, it can control these symptoms.
Who should not take Desloratadine 5mg tablets?
You should not take desloratadine tablets if you are allergic to them, or any of the other ingredients within the tablet. A full list of ingredients can be found in the patient information leaflet.
Situations where you should consult with your GP or pharmacist before taking this medication include but are not limited to the following:
If you are taking or have recently taken any other medication
If you have any medical or family history of seizures
If you have any issues with your kidneys
If you are pregnant, breast-feeding or planning to have a baby
How long does it take to work?
The effects of desloratadine 5mg can usually be felt within an hour and relieve symptoms of allergies for around 24 hours.
Does Desloratadine make you sleepy?
This medication is a "non-drowsy" antihistamine. Having said this, it can still cause drowsiness in a small number of people. Ensure that your reactions are not affected before driving or using any tools or machinery.
Can I take Desloratadine tablets with other medication?
You should not take desloratadine if you are taking any of the following medication:
Betahistine
Isocarboxazid
Phenelzine
Tranylcypromine
Can you buy Desloratadine over the counter?
You are not able to purchase desloratadine over the counter. You need a prescription to buy desloratadine. Here at Chemist Click, you can buy desloratadine tablets online after completing an online questionnaire. This is to ensure that it is safe for you to take.
Side Effects
Side Effects of Desloratadine
Desloratadine can cause side effects for some people, although this is not the case with everyone. If you notice any of the following side effects, immediately stop taking the treatment and contact your doctor or GP, or in the case of an emergency, go the nearest hospital.
Common side effects (affect up to 1/10 people) include but are not limited to
Fatigue
Dry mouth
Headaches
Very rare side effects (affect 1/10,000 people) include but are not limited to:
Severe allergic reactions such as shortness of breath, wheezing, itching hives, swelling of the face, tongue, or any other parts of the body
Seizures
Liver disease (symptoms can include nausea, vomiting, feeling generally unwell, yellow skin or eyes, dark coloured urine, loss of appetite)
Vomiting
Dizziness
Muscular pain
Diarrhoea
Inability to sleep
If you are feeling any of these side effects, or any side effects not mentioned in this list, you must stop talking this treatment and get in touch with your pharmacist or GP.
HOW TO USE Desloratadine
You should take one tablet daily with or without food.
If you miss a dose, try to take it as soon as possible and continue with your regular dosage. Do not take a second dose to make up for the missed dose.
Product Reviews For Desloratadine
Desloratadine PRICES
*Please note: We do NOT charge a prescription fee
| Medicine | x30 Tablets | x60 Tablets | x90 Tablets | x180 Tablets |
| --- | --- | --- | --- | --- |
| Desloratadine 5mg Tablets | 10.89 | 15.49 | 18.89 | 33.49 |